People Can't Get Kenough Of This Behind-The-Scenes 'Barbie' Footage Of Ryan Gosling
Greta Gerwig laughing at him in the background is just too much.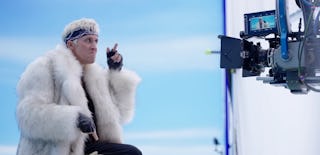 YouTube/Atlantic Records
Summer is almost over — and so is the Summer of Barbie. But before we attend our Labor Day barbecue, walk our kids to the bus, and put away our pink outfits, let's enjoy this one last thing: a behind-the-scenes look at Ryan Gosling, Greta Gerwig, and the whole Barbie crew filming the "Just Ken" song.
Dare you to watch it just once.
The song was one of the highlights of the movie and even made it to the Billboard 100 list, and now we have a backstage glimpse of what it was like to create what is so obviously a cinematic masterpiece.
In this new footage, which was released by Atlantic Records, viewers can see scenes from the movie itself paired with footage of score composer Mark Ronson, director Greta Gerwig, choreographer Lisa Welham, and the entire backstage crew. While the original song delivered a lot of laughs, the on-set look is a super-cool glimpse of what went into the set-pieces, the costumes, the dances, and the composition.
And like you might have guessed, it looks like it was a total blast to be part of the production. Some of the best moments are when Gosling is totally in character and being more than Kenough for everyone and Gerwig is cracking up at him behind the scenes.
Getting a glimpse of some of the other Kens, like Simu Liu and Kingsley Ben-Adir, is also totally worth a watch or two or three.
"Just Ken" stole the hearts of millions, and really hit home how the patriarchy hurts men and women alike. It's also pretty, catchy, too.
"Barbie" is officially Warner Bros.' highest grossing domestic release of all time. And with creative, hilarious performances like these, it's really easy to see why.