Travis Barker Shared His Favorite Baby Name & It's Pretty Out There
Not sure if this choice has been run by Kourtney Kardashian yet.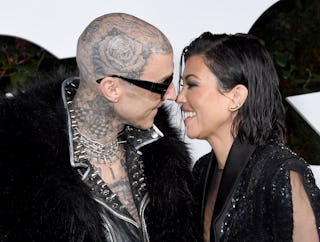 Gregg DeGuire/FilmMagic/Getty Images
Celebrities are notorious for getting a little bit weird with their baby names. We've got Elon Musk and Grimes throwing numbers and symbols into the mix, while Gwyneth Paltrow and Chris Martin famously named their first baby after a fruit. While the Kardashians have picked baby names that aren't that far out there, they're still far from traditional, with selections like Psalm, Stormi, Reign, North, Saint, Dream, and True.
After years of trying, Kourtney Kardashian and husband Travis Barker are now expecting the newest Kardashian crew member — and speculation about the baby's name is already starting. And last week, in a video interview for Complex, Barker dropped what he think is the greatest baby name that exists. And... it's pretty weird, honestly.
The Blink-182 drummer chatted with his 16-year-old daughter Alabama Barker about their GOAT (that's greatest of all time) baby names, and let's just say it's probably not in any baby name books.
"I like Rocky 13. That's just the name that's been going through my head lately," he confessed enthusiastically.
What's his thought process?
"Rocky George played guitar for Suicidal Tendencies and 13 is just the greatest number of all time," he explained. "And Rocky is the greatest boxing movie of all time."
His daughter's response was... strong.
"That's so bad!" she said. "Even he knows it's bad."
"It is, it is bad," Barker admitted, though that doesn't seem to faze him.
"So you're going to name your kid Rocky 13?" Alabama asked
"Possibly," he said.
"Let's see how this goes when he's at school," she said.
Alabama also threw out her three favorite names.
"Audemars. Milan. F*cking Patek," she said.
So far, Travis and Kourtney's blended family already has some stand-out names. Besides Alabama, Barker is father to stepdaughter Atiana, 24, and Landon, 19. Kourtney shares sons Mason, 12, and Reign, 7, as well as daughter Penelope, 10, with ex Scott Disick.
The couple began trying for a baby before their marriage in the spring of 2022 and underwent IVF treatments while trying to conceive. They announced their pregnancy publicly in June, when Kourtney held up a sign that read, "Travis I'm Pregnant," at a Blink-182 concert.
"Overwhelmed with gratitude and joy for God's blessing and plan," she captioned the carousel of pictures from the night.
"God is great," Barker commented.
Recently, Kourtney posted a picture of her pregnant belly and Travis commented, "I already know his name.😉."
Congrats to the couple — now we can only wait to see if they really do welcome Rocky 13 in the coming months.