The First 'Wonka' Trailer Is Here & Hugh Grant Is A Bossy Oompa-Loompa
The film is a prequel to the other Wonka films.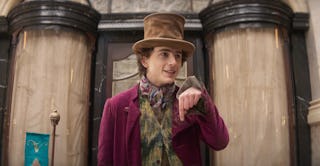 Warner Bros. / YouTube
It's totally normal and appropriate to think that the world did not need another Willy Wonka movie. However, the new film iteration of the beloved story based on the works of Roald Dahl, tells an entirely different story. And we finally got our first, in-depth look at the highly-anticipated film.
Warner Bros. released the Wonka trailer for the upcoming movie starring Timothée Chalamet who plays a young Wonka. Set to release on December 15, 2023, the film serves as a prequel that shows how Willy Wonka met the Oompa-Loompas.
"The film is based on characters by Roald Dahl, inspired especially by one of Dahl's most beloved characters, Willy Wonka, and takes place before the events of Charlie and the Chocolate Factory," reads the synopsis for the Wonka trailer.
In the trailer, Chalamet wears Wonka's classic look — a brown top hat and purple velvet coat — as he is shown turning a small town upside down.
However charming and captivating you may think Chalamet is, there is one scene near the end of the trailer that is sure to make the most waves. In the clip, Wonka speaks with an Oompa Loompa — played by Hugh Grant. Tiny and orange, he warns Wonka that he can't stop his famed song-and-dance routine (you know the one!), as it's already begun.
"I will have you know that I am a perfectly respectable size for an Oompa Loompa," he says before bringing out a piccolo to signal a classic Oompa Loompa tune. "Too late. I've started dancing now," he adds. "Once we've started, we can't stop."
Wonka is directed by Paul King — who also directed the acclaimed Paddington movies — and written by Simon Rich. The film also stars Keegan-Michael Key, Rowan Atkinson, Olivia Colman, Jim Carter and Matt Lucas, and The Shape Of Water star, Sally Hawkins, as Wonka's mother.
The film, which is set to be a musical, will be a first for Chalamet. King has all the confidence in the world in Chalamet praising him during a recent interview with People noting that he "can also sing and dance brilliantly," on top of his acting abilities.
"It's really a tour de force for him there," King said of Chalamet's performance, adding, "He was rehearsing for months before we went to kind of that honing skills, which was a pleasure to watch."
"I think what's so remarkable about his performance is not only that he is funny and mischievous and quite mysterious, as well — just like the Willy Wonka that people will know — but also, he brings such heart to the role and he's a brilliant actor," the director continued.
"He's incredibly emotionally intelligent and can bring a great deal of emotional truth to the role," King added.
As for Grant as a polarizing Oompa-Loompa, King also had no doubts the British actor would knock it out of the park despite fears Grant might not be into the role offer.
King told Entertainment Weekly, "I thought it was a stretch, but I sent him a very short email, and amazingly he came along and did it. He's such a genius. He took to it like a duck to water. It's obviously a long, involved performance process to turn Hugh Grant into an 18-inch-high character, but he did everything and he was brilliant. He was on set with Timothée Chalamet. They were able to play together and improvise together, and I think they've got a brilliant relationship through the movie. It's very clear who's the boss, and it's not Willy."
See Wonka is in theaters Dec. 15, 2023.