Got A Soon-To-Be Parent In Your Life? Send Them These Sweet Expecting A Baby Quotes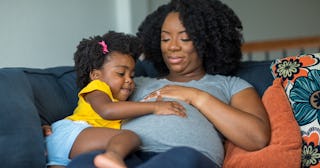 digitalskillet/Getty
Whatever your journey to motherhood, becoming a mother is an indescribable joy. It's a discovery of yourself as much as it is of the precious babe now in your arms — a seemingly endless rising tide of love and tenderness that reveals a strength you never knew you had. And while each first-time mom's experience is in a class of its own, every subsequent pregnancy or welcoming of a child is no less meaningful. Whether you adopt, use a surrogate, or carry your little one, that period of expecting a baby is exciting and full of hope, if not a little terrifying. Which is why so many literary giants and pop culture icons have dropped some famous expecting a baby quotes over the years.
If you're looking for some meaningful words to include in a baby shower card, want to congratulate an expectant parent on their upcoming joy, or are one yourself and want to take in the wisdom of others who came before you, we've done all the work for you. Keep reading for some sweet quotes sure to tug on your heartstrings.
Heartwarming Expecting a Baby Quotes
"A new baby is like the beginning of all things — wonder, hope, a dream of possibilities." — Eda J. Le Shan
"Making a decision to have a child — it's momentous. It is to decide forever to have your heart go walking around outside your body." — Elizabeth Stone
"A baby is something you carry inside you for nine months, in your arms for three years, and in your heart until the day you die." — Mary Mason
"To be pregnant is to be vitally alive, thoroughly woman, and distressingly inhabited. Soul and spirit are stretched — along with body — making pregnancy a time of transition, growth, and profound beginnings." — Anne Christian Buchanan
"Sometimes when you pick up your child, you can feel the map of your own bones beneath your hands, or smell the scent of your skin in the nape of his neck. This is the most extraordinary thing about motherhood — finding a piece of yourself separate and apart that all the same you could not live without." — Jodi PicoultRELATED: 100+ Funny Baby Quotes That Will Make You Giggle
"Everything grows rounder and wider and weirder, and I sit here in the middle of it all and wonder who in the world you will turn out to be." — Carrie Fisher
"There are places in the heart you don't even know exist until you love a child." — Anne Lamott
"You never know how much your parents loved you until you have a child to love." — Jennifer Hudson
"Just as there is no warning for childbirth, there is no preparation for the sight of a first child. There should be a song for women to sing at this moment, or a prayer to recite. But perhaps there is none because there are no words strong enough to name that moment." — Anita Diamant
"Youth fades; love droops; the leaves of friendship fall; a mother's secret hope outlives them all." — Oliver Wendell Holmes
"Mothers and their children are in a category all their own. There's no bond so strong in the entire world. No love so instantaneous and forgiving." — Gail Tsukiyama
"There is nothing like a newborn baby to renew your spirit and to buttress your resolve to make the world a better place." — Virginia Kelley
"A mother's love endures through all." — Washington Irving
"There are hard days in motherhood, but looking at your baby sleeping reminds you why it's all worth it." — Kara Ferwerda
"The life of a mother is the life of a child: You are two blossoms on a single branch." — Karen Maezen Miller
"To describe my mother would be to write about a hurricane in its perfect power. Or the climbing, falling colors of a rainbow." — Maya Angelou
"A mother's arms are made of tenderness, and children sleep soundly in them." — Victor HugoRELATED: Mocktails and Antacid: No-Nonsense Mom Tips for the Babymoon of Your Dreams
"Grown don't mean nothing to a mother. A child is a child. They get bigger, older, but grown. In my heart, it don't mean a thing." — Toni Morrison
"You are the closest I will ever come to magic." — Suzanne Finnamore
"Having a baby is like falling in love again, both with your husband and your child." — Tina Brown
"Babies are always more trouble than you thought — and more wonderful." — Charles Osgood
"Now my belly is as noble as my heart." — Gabriela Mistral
"With every newborn baby, a little sun rises." — Irmgard Erath
"If you are a mom, you are a superhero, period." — Rosie Pope
"Motherhood is the biggest gamble in the world. It is the glorious life force. It's huge and scary — it's an act of infinite optimism." — Gilda Radner
"Think of stretch marks as pregnancy service stripes." — Joyce Armor
"Being pregnant finally helped me understand what my true relationship was with my body — meaning that it wasn't put on this earth to look good in a swimsuit." — Amy AdamsRELATED: 105 Baby Jokes You'll Definitely Go (Goo-Goo) Gaga Over
"A mother is always the beginning. She is how things begin." — Amy Tan
"Giving birth and being born brings us into the essence of creation, where the human spirit is courageous and bold and the body, a miracle of wisdom." — Harriette Hartigan
"The moment a child is born, the mother is also born. She never existed before. The woman existed, but the mother, never. A mother is something absolutely new. And so in you, the child, your mother lives on and, through your family, continues to live… so at this time, look after yourself and your family as you would your mother, for through you all she will truly never die." — Osho
"A mother does not become pregnant in order to provide employment to medical people. Giving birth is an ecstatic jubilant adventure not available to males. It is a woman's crowning creative experience of a lifetime." — John Stevenson
"Loving a baby is a circular business, a kind of feedback loop. The more you give, the more you get, and the more you get, the more you feel like giving." — Penelope Leach
"You can learn many things from children. How much patience you have, for instance." — Franklin P. Jones
"When a baby comes, you can smell two things: the smell of flesh, which smells like chicken soup, and the smell of lilies, the flower of another garden, the spiritual garden." — Carlos SantanaRELATED: 140+ Funny Mom Jokes Because She's Way Funnier Than Dad (Just Don't Tell Him That)
"Babies are bits of stardust blown from the hand of God. Lucky the woman who knows the pangs of birth for she has held a star." — Larry Barretto
"When babies look beyond you and giggle, maybe they're seeing angels." — Eileen Elias Freeman
Baby Shower Wishes and Sentiments for the Expectant Parents
May your home be filled with baby giggles and the pitter-patter of little feet.
Welcome to the world, little sweetness. We've all been waiting for you.
This special baby is already so lucky to have a mother like you!
Lots of love and blessings on your new bundle of joy.
My unsolicited baby advice: Swaddle, snuggle, and enjoy!
It's such an honor watching your family grow. Wishing you endless happiness!
Congratulations! Now, when can the rest of us spoil your little charmer?
I can't wait to watch you become the amazing parent you were always destined to be. Congrats on this new journey!
So happy for you! Call me when you're ready for a parents' night out and need a sitter (or just call anytime).
You've got this. Sending all my love to you and your growing fam.
This article was originally published on