Hilarious Wifi Names To Confuse And Amuse Your No-Good, Thieving Neighbors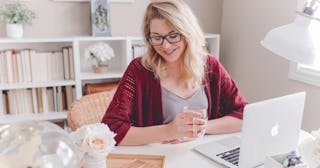 Paige Cody/Unsplash
Your wifi name says a lot about your household. So if you want to add some pizzazz to your internet connection, don't be afraid to make it funny or personal. But most of all, make it easy for you to remember. Nothing is more annoying than getting a list of numbers when you ask for the wifi name. However, this can also be a great way to break the ice or get a conversation going at a get together. So get creative and as weird as you like. Name it after your mom, your 5th-grade boyfriend, or your dungeon and dragons username. It's your wifi set up!
I'm pretty proud of my Wifi name: PittieParty. It refers back to the days I would sit around drinking wine and feeling sad about everything — and my two pit bulls, Violet and Parker. I might not have a pity party every week now (let's face it, there's just no time), but who doesn't love a good pun? And Wifi names are an excellent way to show your neighbors you have a sense of humor. So, if you have some random combination of letters and numbers, consider updating your Wifi name to reflect your family's personality. Here are some of our favorite funny, clever wifi names — but really, the possibilities are endless.
1. FBI Surveillance Van
2. Stop Being A Mooch
3. The LAN Before Time
4. Nacho WiFi
5. Please Connect for Identity Theft
6. Mom, Click Here for Internet
7. LAN Solo
8. Spying On You
9. Friendly Neighborhood Spider-Lan
10. Help, I'm Trapped in This Router
11. A Van Down By The River
12. One Does Not Simply Log Into Mordor
13. Winternet is Coming
14. I'm Under Your Bed
15. For Porn Use Only
16. Everyday I'm Buffering
17. Luke, I Am Your Wifi
18. Dora The Internet Explorer
19. House LANister
20. Area 51
21. We Can Hear You Having Sex
22. Russian Hackers
23. You Fart Pretty Loud
24. Saved a Bunch of Money by Switching to GEICO
25. Wifi Art Thou Romeo
26. Witness Protection
27. You Will Regret This
28. Very Slow
29. Banana Stand Money
30. Got Milk?
31. Free Public Wifi
32. Lastdudeisakeeper4real.
33. TellMyWifiLoveHer
34. Feel Like Flying
35. Cadet
36. Virus Infected WiFi
37. Mom Use This One
38. Getlosta$$h0le
39. TheyRWatching.
40. Nothing.
41. GetOffMyLawn
42. Bring Beer and Women for me
43. Free Wifi for you
Related: 19 Dirty Jokes To Tell Your Friends That You Can't Help But Laugh At
This article was originally published on