45 Leslie Knope Compliments To Give The Beautiful Unicorn BFF In Your Life
by Laura Grainger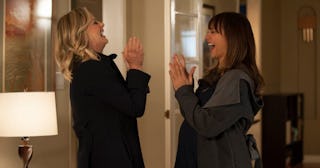 NBC
It's been five sad years since we officially said goodbye to our favorite local government officials à la Parks and Recreation. But has that stopped us from quoting the beloved NBC show over and over? Absolutely not. Especially when it provides such great compliment material for our best gal pals (and occasionally, we suppose, our partners). The series said its final goodbyes back in 2015 but the Pawnee gang reunited for a special coronavirus-themed episode during the early days of the Covid-19 pandemic to bring some sunshine into our lives and raise money for charity. Whether you need something spectacularly funny to write in a birthday or Galentine's Day card, or you need a mirror-affirmed confidence boost, Knope-roblem!
We hereby present to you a list of the most iconic Leslie Knope (Amy Pohler) compliments – mostly to Ann (Rashida Jones) and much to April Ludgate's chagrin, for obvious reasons. How popular are Leslie's compliments? Well, according to the latest search data available to us, "Leslie Knope compliments" is searched for nearly 1,900 times per month. That's right. So sit back and enjoy this compliment masterclass from everyone's biggest cheerleader. And share it with the Ann in your life.
"I love you guys! And Ann specifically."
"Ann, you opalescent tree shark."
"Ann, there is nothing harder in the entire world than saying no to your beautiful face."
"Ann, you're so sweet and innocent and pretty."
"He's like a brilliant, sexy little hummingbird." (Ben)
"I know it makes you uncomfortable, but you're thoughtful, you're brilliant, and your ambiguous ethnic blend perfectly represents the dream of the American melting pot." (Ann)
"Ann, you rainbow-infused space unicorn."
"Ann's my doctor. She's the most beautiful nurse in the world."
"You're Ann Perkins. Sperm that is worthy of your perfect eggs does not grow on trees."
RELATED: 30 Andy Dwyer Quotes Better Than 5,000 Candles In The Wind
"Ann, you beautiful, tropical fish."
"Ann, you're so beautiful. Beautiful Ann."
"I fully support any woman's decision. Especially a beautiful unicorn-nurse like yourself." (Ann)
"Ann, you poetic, noble land mermaid."
"I should listen to you always, because you are a man genius with a taut, narrow frame like a sexy elf king." (Ben)
"Ann, you're a genius! Your brain is almost as perfect as your face."
"Ann Perkins, you perfect sunflower."
"Ann, you're beautiful and you're organized."
"Oh Ann, you're too beautiful to be funny. It's not your fault."
"Ann, you beautiful, rule-breaking moth."
"Ann is the greatest human being ever invented."
"Ann, you beautiful spinster. I will find you love."
"Ann, you tricky minx!"
"Right now you are the most beautiful, glowing sun-goddess ever." (Ann)
"Ann, you beautiful, naive, sophisticated newborn baby."
"Oh Ann, I always forget because you're so pretty you're not used to rejection."
"Ann, you're such a good friend. You are a beautiful, talented, brilliant, powerful musk ox."
"Ann, you beautiful, sassy, mannequin-come-to-life."
"Sweet and beautiful Ann has never been dumped before."
"You've resuscitated a human heart in your bare hands." (Ann)
"He'll never lasso another heifer as fine as you, Annie Oakley."
"Ann, you know that I fully support any woman's decision, especially a beautiful unicorn nurse like yourself, in creating the family that she wants. But you are so brilliant and kind and stupid hot, you're definitely going to find a wonderful guy who loves you and respects you and fills your home with multiethnic genius babies."
RELATED: 55+ 'The Good Place' Quotes So Forking Funny, They Make Heaven A Place On Earth
"It is the most beautiful object I've ever seen. It is like the Ann Perkins of dresses. It is amazing." (To her own wedding dress)
"Ann, you cunning, pliable, chestnut-haired sunfish."
"Nobody can fill your shoes, Ann, with those tiny little doll feet."
"He's so beautiful! And you're so beautiful. I mean, you're always beautiful, but right now you're the most beautiful, glowing, sun goddess ever." (To Ann and her newborn)
"Now I have two best friends, Ann and Ann. Each one more beautiful than the other."
"Nobody can match your ethnic hybrid energy."
"Two hundred for the smartest, most accomplished woman I know. And check out that bod."
Ann: "You look weird."
Leslie: "So do you. That's a lie, you always look beautiful."
"Ann, you tricky bastard."
"Ann, you devious bastard."
"You coy bastard."
"Uteruses before duderuses."
"I love you and I like you."
"Parades and your butt. My two vices." (Ben)
Some Leslie Knope Inspired Gifts
Looking to show your appreciation for your own space unicorn? Leslie's many wonderful and outrageous compliments have been put onto several gifts perfect for any true-blue bestie.
Ever see those super cute notepads for giving "tickets" or issuing cuteness citations? Someone on Etsy created a Leslie Knope compliment checklist. No matter which boxes you choose, the Leslie-inspired compliment will be perfectly Knope.
Not sure which of the above compliments best suits the Ann in your life? Give her all of them! This work of compliment art would be perfect to frame for a new office or sit on a vanity.
Is there anything more Leslie Knope-like than compliment stickers? These belong on laptops or, ya know, binders. If your bestie is a little more Knope and a little less Ann she'll love 'em.
Everyone needs a special mug for coffee when they're chowing down on their pancakes. Can we recommend saving this one for Galentine's Day?
You could give the set to your Ann with a book-buying problem, or use them to adorn presents to several of your most favorite people. Up to you!
This article was originally published on