10 Best Laundry Detergents & Products To Up Your Laundry Game In 2021
We only recommend products we love and that we think you will, too. We may receive a portion of sales from products purchased from this article, which was written by our Commerce team.
by Steph Osmanski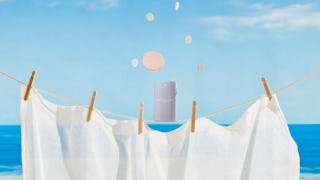 This is not your mother's laundry routine and it's not her laundry detergent either. The year 2021 might be a lot of different things— the year roller skates and tie-dye returned and the year that single-serve alcohol got delivered right to your door— but it's also been a banner year for sustainability. As a result, people are greenifying their laundry routine for the better.
RELATED: 11 Crazy Cool Tie Dye Patterns Your Kids Will Love
Going green for the planet is something we can all get behind. After all, what's good for the environment is usually the best case scenario for our little ones, too. Take microplastics, for example. Microplastics are teeny, tiny pieces of plastic debris that shed off bigger plastics and textiles (yep, even your clothes!) and end up in our waterways. They're bad for the planet, marine life, and also for our kiddos. In fact, each time we run a load of laundry, microplastics shed into the water and end up in our oceans. Later, we can even end up drinking them in our water.
RELATED: 8 Mom-Approved Organic Baby Detergents That Are Gentle Enough for the Entire Fam
The good news is there is a way to cut back on microplastics: Cut back on single-use plastics.
Scary Mommy chatted with Sarah Paiji Yoo, CEO and Co-Founder of Blueland, to discuss about Blueland's latest venture, which launches today: a green laundry detergent tablet.
"I founded Blueland with the belief that you don't have to sacrifice a clean home and clean clothes for a clean planet. To make the biggest impact possible, we're dedicated to making it easy for people to make the right choice with products that are effective, affordable, and convenient," Paiji Yoo says.
Paiji Yoo has a three-year-old with a second due this November. She tells Scary Mommy that having kids was her biggest motivation in creating a company that encourages people to realize that a cleaner planet starts at home.
"As I was planning to shift from exclusively breastfeeding to formula-feeding my son, I was horrified to learn how many microplastics are in both tap and bottled water," Paiji Yoo says of why she started Blueland. "It killed me that I had no choice but to use water with microplastics to make baby formula for my son. It was then that I decided to cut back on my own plastic consumption, but realized that I didn't have much choice as a consumer to cut out on single-use plastic packaging for household projects."
Now, Paiji Yoo has made it Blueland's mission to cut back on plastics, minimizing microplastics in our waterways. And since one of the main ways microplastics enters our waterways is through the laundry, it only makes sense to make your laundry routine as sustainable as possible.
"As a mom of a toddler and another one on the way, it was really important for me to launch laundry products that are safe to have in my home as well as safe to use on my children's clothing on-a-regular basis," Paiji Yoo adds. "Using Blueland's products on our laundry gives me a sense of relief that my family members are not exposed to harmful chemicals and that bit of relief as a mom goes a long way."
Ready to greenify your laundry room? Keep reading for Blueland's new line of laundry detergent tablets and more must-haves to add to your laundry routine. These are the best eco friendly laundry detergents you can use for the whole family.
Best Eco-Friendly Laundry Detergent
Once your laundry room is set, check out more curated products for home & kitchen!
This article was originally published on