Snail Mucin Serum Is 42% Off For Prime Day, So There's No Time Like Now To Try This Trend
If you've been on social media *at all* lately, you've seen someone raving about snail mucin. Here's your chance to get in on this trend for a steal.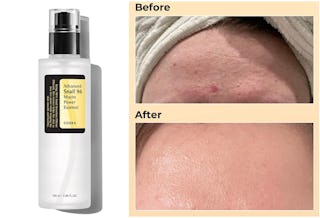 COSRX Store/Amazon
We may receive a portion of sales if you purchase a product through a link in this article.
If you've scrolled TikTok *at all* lately, you've heard everyone from beauty editors to influencers raving about the benefits of adding snail mucin to your skincare routine. But if you're anything like me, the potential ick factor of slathering literal mollusk slime all over your face may be holding you back. Well, it's time to get off the fence and get on-trend: Cosrx's wildly popular Snail Mucin Power Repairing Essence is 42% off on Amazon for Prime Day.
In other words, there's no time like the present to try it out. You can finally join everyone on social media who swears by it for glowing skin, including the likes of Lo Bosworth, who uses it as part of her "glazed donut" nighttime regimen (which dermatologist Dr. Chis Tomassian gives the seal of approval); "forever snail mucin obsessed" licensed cosmetologist @jilllegsfordays; and aging and skin specialist Dr. Jo Ward.
What is snail mucin?
Fast Facts:
Has hydrating characteristics that help lock moisture in
Tones skin and helps reduces dark spots and scarring
Reportedly promotes collagen, which offsets signs of skin aging
May reduce the appearance of fine lines and wrinkles
Obtained using ethical, environmentally friendly methods
Parabens-, sulfates-, and phthalates-free (according to the brand)
As the name would imply, snail mucin is the secretions produced by a snail — aka the slime they leave behind in a sticky trail wherever they go. In the skincare world, that mucin or "snail secretion filtrate" (SSF) has been harvested and incorporated into serums, essences, or creams.
According to a study published in Frontiers in Bioengineering and Biotechnology, the use of snail mucin in skincare can be traced all the way back to ancient Greece, where it was used to reduce inflammation and fight signs of aging. In more modern times, snail farmers in the 1980s realized mucin's potential when they noticed how soft it made their hands.
While the research into snail mucin's skincare benefits is still relatively light, firsthand accounts on social media have propelled it into a booming business — snail mucin skincare is expected to grow to $770 million by 2025, according to the aforementioned study.
How do you use snail mucin?
Although snail mucin is incredibly hydrating, experts say you shouldn't use it in lieu of a moisturizer. Rather, it helps lock in moisture. So, after cleansing your skin and applying any active products, put on the snail mucin — before you put on your regular moisturizer.
"This is a game-changer. I did my regular skincare cleanse routine and applied a small amount of the essence. Warmed on my fingertips and gently applied and it was plenty for my entire face. It looks and feels like a serum, so it felt soothing as you apply. I fully expected the initial glow, but I waited a few minutes and followed with a small (less than half a dime) COS RX snail mucin moisturizer. I could see immediately what people were raving about, my skin looked dewy and plump, very nice ... a surprisingly good buy."
"I kept seeing videos and articles about this being amazing for any and all skin types/concerns. I was kinda grossed out at the idea of snail goo on my face lol. I've been using it for a month now, and my skin is so soft. It has also helped diminish/heal the slight eczema on my neck, too! It is a little gooey but absorbs like a dream without any sticky residue. There's no fragrance or smell. It's very lightweight. Can't wait to see where I'm at in another month of use. I'm a licensed esthetician of 9 years and I love trying new products. Especially effective AND affordable products for clients who want amazing skin without breaking the bank."
"This stuff is AMAZING! I was super hesitant to buy it because I was weirded out by it but decided I'm almost 40, I'll try anything to stay young. I've been using it for just under 2 weeks and I can't believe how much my skin has improved. More even skin tone, less sun spots, overall just smoother skin. I have sensitive skin so when I start using a new product, I always break out. Not with this. My skin has never looked so great, and after just 2 weeks. I've recommended this to so many people already. Just buy it already!"