30+ Easter Basket Ideas Tweens & Teens Will Think Are Bussin'
That's what the kids are calling it, right?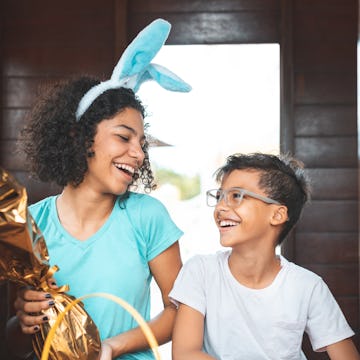 MesquitaFMS/E+/Getty Images
OK, so your 12-year-old no longer believes in the Easter bunny. And, honestly, they've been a bit obnoxious about it, haven't they? Bet they still want that goodie-filled Easter basket, though. If they have younger siblings who still believe in Peter Cottontail, it's especially important to keep them happy and in on the Easter basket tradition. But what do you get a metal-mouthed tween who can't have candy? Or, worse, a Doja Cat-obsessed teen who scoffs at Fruit of the Loom? The baskets of your youth were full of underwear, socks, and junk food — but it's a whole new world out there now. You need fresh Easter basket ideas for tweens and teens to avoid an endless litany of eye-rolls.
If you want them to laugh at your Easter jokes or join in on your little's Easter games, you'll need to appease those "big kids." Tweens and teens want more than candy and Hanes. In search of even more basket-building inspo? Here are some other ideas to appeal to the (adolescent) masses.
Toiletries
If your kid has suddenly begun to leave an odiferous trail everywhere they go, now is your chance to give them a nudge toward the shower. Load their basket up with a deodorant stick (or break down and buy body spray or perfume) and maybe invest in a loofah (or six). If your tween or teen has already mastered the basics, get them whatever trendy products "all the other kids" are using.
Lotions
Body wash
Body spray or perfume
Bubble bath
Shampoo/conditioner
Chapstick
Self-Care
Time for a spa night at your house? Tweens and teens love a chance to practice self-care. The only difference in what you get your 11-year-old versus your 16-year-old? Price! While your tween will be happy with some wild-colored, $1 nail polish, your teen might want a better brand or more specific, trendy colors. Makeup palettes are the same way. Let your tween experiment with all the cheap stuff while helping your teen invest in some nicer makeup (albeit smaller quantities).
Nail polish
Makeup brushes
Bath bombs
Face masks/sheet masks
Eye masks
Temporary hair color
Mani/pedi kit
Journal
Snacks
You have to find room for some snacks in that basket, right? If your teen just got their braces off, load them up with gummy candy (sorry for the lingering sugar high come Monday morning, teachers). If your tween loves looking for ways to feel grown-up, treat them to some Nutella or the more expensive chocolate your keep stashed out of reach. You can go the route of typical Easter jelly beans, but it's also an occasion to do something just a little more special.
Takis
Sour Gummies
Granola bars
Nutella & Go!
Goldfish
Favorite chocolates
Starbucks treats
Peeps (a true classic)
Jelly Belly jellybeans
Starburst
Pringles
Beef jerky
Doritos
Trail mix
Fun Stuff
Looking for even more random crap to toss in their baskets? Take note: Anything you could stick in a stocking (or just under it) is fair game for an Easter basket for tweens and teens. Airpods are atrociously expensive. The cases: Not so much. And you can pick up fun phone cases at your closest Five Below. While an Easter basket can be 75% the same for all your kids, it's fun to do a little spin to personalize each one. That might mean loading up your athlete with new stickers for their Hydro Flask or getting that cool, matte black studded Starbucks tumbler for your "baby bat."
Airpod case
Phone case
Charger cords
Fidgets
Scrunchies
Croc charms
Starbucks cups
Hydro Flask stickers
Basketball
Beach towel
PJs
Pens/markers
Books
Splurges
To be clear, no one's saying you have to spend $200 on a hammock and a freestanding frame. But you can pick up a portable nylon hammock for about $20-40, depending on where you shop. A replacement for that dinged-up Hydro Flask is also a solid option. If your teen just got their license, a little help with gas will surely be appreciated. And the majority of the tween and teen kids polled for this article's input responded the same way: bring on the gift cards. So, when in doubt, load their basket up with a gift card smorgasbord, and you'll be good to go.
Hydro Flask
Gas cards
Gift cards (Starbucks, Target, Apple, any of their favorite stores)
Headphones
Hammock
DVD/BluRay
Video games
Sunglasses
More Easter Basket Ideas
Bunny shaped soap
Easter-themed Squishmallows like bunnies, ducks, or chicks
Lip gloss
Silly putty
Play-Doh
Chalk
Scented pencils or markers
Tiny succulents
Doodle or notepads
Colorful barrettes or clips
Small/simple puzzles
Mini Etch A Sketch
Glow sticks
Bubbles
Playing cards
Tiny Rubik's Cube
A set of costume jewelry
Sleeping masks
Colorful shoelaces
Temporary tattoos
Stamp presses
Erasers
Korean face masks
Magnets
This article was originally published on