26 Halloween House Decorations Under $40 You Can Use All Year Long
Stock up on frightfully good decor.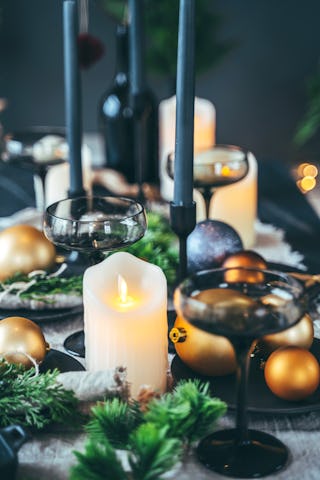 Yana Iskayeva/Moment/Getty Images
Every October, Halloween decorations are dusted off and put on display. For some of us, it's as simple as placing a pumpkin on a stoop. Others (you know who you are) concoct entire spooky graveyards complete with animatronic witches, ghouls, and a light show. And while we're all about going all in for Halloween, we know that not everyone has the time or money to concoct the perfect scary set-up for just one night. Besides, there are Halloween movies to watch and family costumes to plan! Not to mention what a buzzkill it is to have to put everything away as soon as the calendar flips from Oct. 31 to Nov. 1. That's why we put together this list of Halloween home decor you can use all year long.
The reality is, for some of us, the only thing that would make Halloween better is if it actually never ended. But, in light of that not happening, the next best thing is being able to carry some element of the Halloween aesthetic with us throughout the year. From flameless candles and tarot-inspired wall tapestries (um — yes, please!) to black *everything*, here are 26 Halloween decorations under $40 that you can enjoy even after the trick-or-treating bag is empty. Your dark heart will feel right at home, 24/7/365.
We may receive a portion of sales if you purchase a product through a link in this article.
Halloween comes around once a year, but your Halloween decorations can be left out year-round thanks to these 25 pieces with staying power. Now, you can focus on getting your family excited for the holiday. You know, so you can enjoy the adorable memories (and costume photos!) until next Halloween.