What Age Can I Take My Kids To Halloween Horror Nights At Universal?
If your family loves spooky stuff, this event is probably on your seasonal bucket list.
by Morgan Flaherty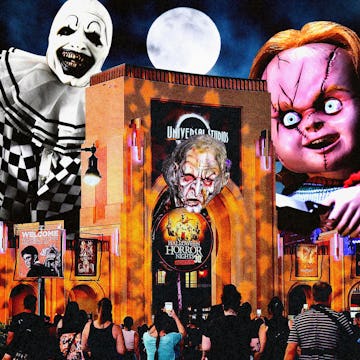 Ariela Basson/Scary Mommy; Getty Images
If you're a major Halloween fan, chances are high that you've visited Universal Studios in the past for the crème de la crème of scary events: Halloween Horror Nights. The annual event takes place each September and October at Universal Studios in Hollywood, Orlando, Japan, and Singapore, with haunted houses, entertainment, and scare zones that transform the parks into the scariest places on Earth.
And when we say scary, we mean very scary. As in so scary that I, a grown adult, am still kind of terrified of going. Halloween Horror Nights is not for the faint of heart — this event is meant to terrify you to your core. But if you have a teenager looking to go, we're sharing a guide with everything you need to know before visiting.
What is Halloween Horror Nights?
Halloween Horror Nights first started in 1997 and has gone through many iterations and forms in the years since. Today, the event typically starts in September and runs through the end of October as a separately ticketed nighttime event. During Halloween Horror Nights, the Universal Parks transform into a fully themed haunted house experience, with scare zones (areas where performers will purposefully try and frighten you), entertainment, and themed food and drinks.
For 2023, a single-night ticket for Halloween Horror Nights starts at $79.99 a person, with the event beginning at 6:30 PM. For a higher price, you can also purchase the Halloween Horror Nights Express Pass starting at $129.99 a person. This gives you a chance to skip the lines at the haunted houses, which can get incredibly long throughout the night.
You can also take advantage of various ticket packages and add-ons available. One of the more popular ones is the RIP Tour, which offers guided access to all the haunted houses.
While many details are yet to be revealed for the 2023 Halloween Horror Nights, we do know that a haunted house inspired by The Last of Us will be among the ten available houses.
What age can I take my kids to Halloween Horror Nights?
While Universal does not impose an official age restriction for Halloween Horror Nights, they warn that the event "may be too intense for young children and is not recommended for children under the age of 13."
In truth, whether your child is old enough for Halloween Horror Nights is ultimately something only you can determine as the person who knows them best. The haunted houses and scare zones are intense. If you have a child or even a teenager who cannot handle scares, this will not be a pleasant experience for them.
The event features scare actors who are purposefully trying to frighten guests inside and outside the haunted houses, so you will want to make sure any kid you are taking is mature and prepared enough to handle that experience.
While the haunted houses vary in their themes and level of scariness, in the past, many have featured loud noises, gore, purposeful scares, and intense scenes meant to scare guests. Keep in mind that you don't need to go into all the houses, so if you have a child that may be able to handle some of that just fine, you could always skip the houses that may feature particular triggers.
Tips for visiting Halloween Horror Nights With Kids
If you have a kid you decide is able to handle the scares of Halloween Horror Nights, there are a few tips you can keep front of mind!
Prepare them for the experience: Don't let them go in blind. You can review the houses and decide which ones you do/don't want to visit. This can also help determine priorities, as the wait times can get very long.
Consider Express Pass: For popular houses, wait times can easily reach an hour or more. If you are with a group that wants to get as much done as possible, consider upgrading to an Express Pass to skip the line.
Take breaks: If the scares get too intense, take breaks. Most of the park is open during Halloween Horror Nights, so consider heading over to a ride to take a moment away from the Halloween of it all.
Respect the actors: If you are bringing your child, make sure they know to respect the actors who are working. The actors' main job is to try and scare guests, but it's important to teach kids to respect the performers even if they get scared. If they do get too scared, if they say something to the performers, they will typically back off (in character, of course).
Alternative Halloween Events at the Theme Parks
If going to Halloween Horror Nights sounds too intense for your young ones, don't worry — there are plenty of other family-friendly Halloween events at various theme parks.
Mickey's Not-So-Scary Halloween Party: Disney World has its own separately ticketed Halloween event... and it's a lot less intense. With trick-or-treating, costumes, and fun treats, this is an event that's great for the whole family.
SeaWorld's Spooktacular: SeaWorld offers the best of both worlds. During the day, SeaWorld's Spooktacular includes costumes, trick-or-treating trails, and a Halloween parade. At night, the separately ticketed Howl-O-Scream allows thrill-seeking guests to enjoy haunted houses set up around the park.
If you want to visit Universal for Halloween but aren't into the intensity of Halloween Horror Nights, the Universal parks will typically have some fun experiences you can take advantage of during the day. In the past, they've had opportunities to view a maze or two with the lights on or the ability to enjoy characters and fun decorations.
When it comes to choosing a Halloween event at the theme parks, you've got plenty of options. But if you've got a kid that is up for the scariest of scary experiences, then Halloween Horror Nights at Universal is the one that can't be beat.