15 Clever Anti-Chafing Products & Clothing Under $35 To Save Your Day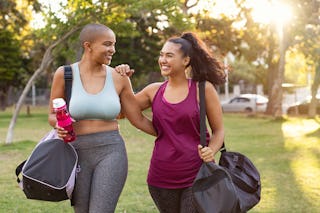 Shutterstock
Let's not mince words: Chafing sucks! If you've ever been affected by it, you've probably wondered how to prevent chafing or how to stop chafing in its tracks. It can derail your ability to move through the day by causing discomfort and pain in pretty much any nook or cranny of your body where moisture meets friction.
Fortunately, there are many products (like balms, creams, and sprays) and clothing options (like anti-chafing underwear, shirts, and liners) designed to prevent and treat chafing. Whether it's boob chafe, arm chafe, ball chafe, thigh chafe, or any other kind, we've done the research and read countless (sometimes hilarious) reviews to help you find the best solution for your discomfort, with affordability in mind. Here are the best products that help prevent chafing.
We only include products that have been independently selected by Scary Mommy's editorial team. However, we may receive a portion of sales if you purchase a product through a link in this article.