All The Essentials! 37 Labor Day Sale Finds You'll Want To Add To Cart Right Now
Great deals on everything from baby PJs to coffee makers.
by Emma Coburn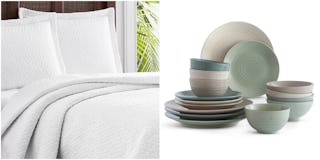 Wayfair
Summer may not be over quiiiiite yet — but it's about to be. And whether you're celebrating (or mourning) the close of the sunniest season, there's one end-of-summer activity that never fails to bring a bit of joy: Labor Day sale shopping. It's the perfect time of year to stock up on back-to-school supplies and other essentials you know you'll need well into the fall and winter.
Maybe you have a guest bathroom that needs a makeover, or it's time to refresh the PJ drawer. Maybe you need a new winter coat for the coming cold weather — or you just didn't realize quite how dirty last year's backpack was until approximately four seconds ago. For all these situations and more, there's a Labor Day Sale item with your name on it.
Even better? It seems as though retailers really stepped it up this year when it comes to savings. Some are offering as much as 80% off of their standard pricing! And amid inflation, shrinkflation, and all the other undesirable -ations, it's nice to feel as though you're genuinely getting some extra bang for your buck. To that end, this curated list of Labor Day sale essentials can help you out.
We may receive a portion of sales if you purchase a product through a link in this article.
Whether you're still stocking up on school year basics or (let's be honest) just sale-shopping for the dopamine hit, there are plenty of Labor Day deals you can take advantage of this year. Happy hunting!