Looking To Redecorate? Here's The Easiest Way To Change The Entire Look Of A Room
by Rachel Aschenbrand-Robinson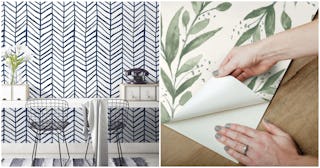 Amazon/Home Depot
Peel and stick wallpaper is back, baby, and it's come a hell of a long way. What was once considered taboo and outdated in the decor world is now modern, on-trend, and if you choose, temporary. There are now cool prints, colors, and textures available to suit every style — not to mention the ability to move and remove it with ease. Peel and stick wallpaper has made it possible to transform your home, whether you own or rent.
RELATED: Spruce Up Your Kids Room With These Adorable Wallpaper Designs
Removable wallpaper has changed the DIY decor game for good. Gone are the days of scraping, priming, pasting, and steaming — and then, having to live with the results for years because you just can't even think about doing it all over again. These days, adorning your walls is as easy as peeling off the backing, putting up the adhesive paper, and moving or adjusting the placement if you need to. The options available now range from dreamy, boho marble print murals to whimsical floral repeats to bold graphic chevron patterns. You can even find faux-textured peel and stick wallpaper that looks like Mediterranean tiles or whitewashed wood (you'd only know if you got up close)!
RELATED: 'Golden Girls' Wallpaper Exists And It Is Truly Amazing
Another reason to take this trend for a spin: You're not limited to just your walls. If you're looking to spruce up your shelves, drawers, even your stair risers, or your fridge (we've seen it!), removable wallpaper offers a quick, easy, and often cheap option. Plus, you can take it off or swap it out whenever you like; it's a commitment-phobe's dream!
Whether you're in your space temporarily or you're just the type that likes to change up your decor often, we've rounded up the best peel and stick wallpaper picks from Amazon, Etsy, and more.
Best Peel And Stick Wallpaper
Textured Peel And Stick Wallpaper
Peel And Stick Wallpaper Amazon
Cheap Removeable Wallpaper
This article was originally published on