16 Best Remote Control Cars For Toddlers That'll Trip You Up But Make Them Smile
We only recommend products we love and that we think you will, too. We may receive a portion of sales from products purchased from this article, which was written by our Commerce team.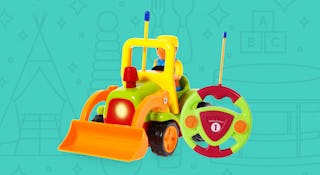 Toddlers love noise, and Mamas love the noise they can control the volume to. Luckily there are toys like remote control cars that will satisfy both you and your kiddo.
The noise coming from loud toys, screaming fits, or that damn Wheels on the Bus song that they're obsessed with, are all great for the little one but it also ensures you'll be buying so much headache medicine that the checkout person at the grocery store will give you one of those funny looks with a raised eyebrow. So, for the kids who are obsessed with cars, trucks, and construction equipment specifically… remote control cars for toddlers is the best bet for your ears and their fun.
RELATED: The Best Garbage Truck Toys For Your Sweet Little Hauler
Full disclosure: Some of these toys still make noise, but you often can control the volume. And the kid will have so much fun driving and crashing the RC car that he or she will barely notice the reduced noise level, making the toy less annoying. And luckily there is a variety of options too. Remote control cars for girls, Remote control trucks for boys, RC cars that work great on grass, character-themed, etc. There's no doubt you'll be sure to find one they love.
Even though they're a toddler now, it'll be no time at all before he or she is a teenager learning to drive a real car. So enjoy these fun times with an RC car now … even when you're tripping over the damn thing or it's ramming your ankles, adding another colorful layer to the bruises you already have there. Ahead are the 16 best remote control cars and trucks for kids.
Best RC Cars For Toddlers
Best Remote Control Cars For 5 Year Olds
RELATED: 10 Best Disney Toys To Keep Kids Living Their Most Magical Lives Right At Home
Best Remote Control Cars For Kids
Best Remote Control Trucks