Put Reese's Dipped Animal Crackers On Your Grocery List Right Now
Yep. That's right. Reese's. Dipped. Animal crackers. Maybe heaven really is a place on Earth.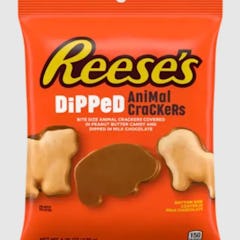 Reese's
If you're a firm believer that food fixes everything, you'll be happy to know that Hershey's is bringing major healing energy into 2023. The oh-so-yummy chocolate brand has released a wildly sweet collaboration: Reese's Dipped Animal Crackers. So, like, all the problems we've faced in 2020, 2021, and 2022? They're basically gone now, right?
Just like that time Reese's collab'ed with Krispy Kreme, they're pairing up for another delicious surprise. Releasing just as flu season fades and tax season begins, these sweet little treats are exactly what we need to get us through that winter-spring slump — until it's finally warm enough to eat frozen Reese's cups on the porch again. Thank you, World's Favorite Halloween Candy.
Let's be real: These nostalgic treats are each delicious on their own. If you haven't hunkered down in front of Netflix and accidentally devoured an entire bag of your kid's animal crackers... you're a liar. And we all know you secretly wish for a holiday stocking or Valentine crammed with all our favorite kinds of Reese's (pieces, cups, trees, hearts, eggs, etc.). It just makes sense that they'd pair the two together, like French fries and ice cream, or chocolate and anything — especially milk. (Omg, HERSHEY'S! Please make Reese's Milk!) But what exactly does that cracker and Reese's pairing look like?
This crunchy and sweet treat has been expertly crafted to appease fans of both Animal Crackers and Reese's Cups. Each cracker is covered in peanut butter first. Next, it's dipped in America's favorite chocolate. The treat sounds wildly delicious and potentially even better when stored in the fridge. Why not turn those cracker bears into cracker polar bears, eh?
This isn't the only nostalgic brand pairing on the market, but it might be the best. The Dr. Pepper-flavored Peeps were delightful, but with 23 flavors on which to capitalize, how could they not be? Those Goldfish Dunkin' Pumpkin Spice Grahams felt out of place after fall. The Kraft Mac and Cheese ice cream was strangely... OK. And let's not forget the absolutely tragic Flamin' Hot Mountain Dew controversy of 2021. (You may want to forget about it, but those who forget the past are doomed to repeat it.)
Don't let those other pairings leave a bad taste in your mouth, though: Reese's Dipped Animal Crackers are a win, not a gamble. And they're available right now.
Other Foods That Should Be Reese's-Dipped:
Chex
Granola bars
Bananas (Elvis would approve!)
Literally all fruit
Peeps
Pretzels
Potato chips
Oreos
Nutter Butters
Graham crackers
Little Debbie's Oatmeal Creme Pies
Peanuts/Cashews
Starbucks' cake pops
Rice Krispies Treats
Reese's Peanut Butter Cups (Imagine: Peanut butter dipped in chocolate, dipped in peanut butter, and then dipped in chocolate again.)
Not every collab can be a win. But when you bite into that familiar crunch of cracker-like cookie paired with the sweet peanut-butter-and-chocolate combo no one can resist, it's hard to imagine any reaction other than taste-bud bliss. Just think: Maybe one day this will be the treat that triggers your kid's nostalgia as they recall the first time they tried it... with you.