A Self-Driving Stroller Exists And It Costs $3,800
Okay, it looks pretty cool though.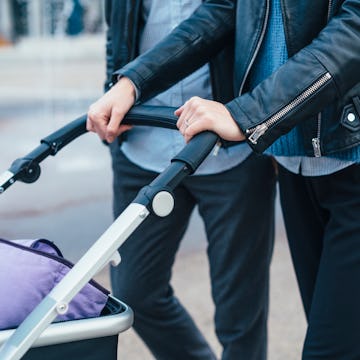 Arno Images/Image Source/Getty Images
It was only a matter of time before self-driving technology made its way to baby gear. Canadian-based startup Glüxkind debuted its self-driving stroller at CES 2023, and the smart stroller made quite an impression at the global event that celebrates innovative technology — not only for some of its features, but for its $3,300 price tag as well.
The Ella AI Powered Smart Stroller utilizes a lot of the same technology seen in self-driving cars and delivery robots, like a "dual-motor drive system dual-motor drive system will help you conquer even the steepest hills with ease," as described on the startup's site.
It also has a smart multi-brake system designed to apply the brakes automatically when the stroller becomes unattended, along with "automated danger awareness" that alerts parents of potential immediate hazards, like one of the other kids running right out in front of the stroller.
The stroller's "Hover Mode," or hands-free mode, that allows the stroller to drive itself while still attended. The company also stresses that parents should only use this mode when the stroller is unoccupied, as it is still in beta testing — and the stroller is not a replacement for a child's guardian.
The Ella also has an automatic Rock-My-Baby feature, which can give parents "a moment of peace while your little one snoozes peacefully thanks to the calming motion" of rocking back and forth. And with the help of the stroller's app, guardians can also play white noise, stories, or voice notes for their little passenger.
Of course, all of these bells and whistles don't come cheap. The Founder Edition of the stroller, which is the only model currently listed on Glüxkind's website, requires a deposit around $150 ($200 CAD), and the purchase price starts at $3,800 USD. The strollers are set to be sent out starting in April 2023 for those with preorders, according to the company website.
While some might feel that a self-driving stroller is a bit too much (and more than a bit too much out of price range), it is a pretty cool piece of tech in and of itself. Plus, a lot of the features aim to make strolling with a child more accessible to older parents, grandparents, or parents with disabilities.
The future is here, y'all, self-driving stroller and all.