We Call The Top Hat! 9 Best Online Board Games, Including Monopoly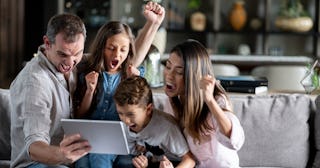 Hispanolistic/Getty Images
With social distancing now a "thing" and millions of people staying at home, game night has definitely changed in 2020. But that doesn't mean it has to be a bad thing. Game night can still be a fun and budget-friendly activity to do with your pals! It just looks a little different now (doesn't everything?). With multiple online board games available — like favorites such as Monopoly, Trivial Pursuit, Clue, and Ticket to Ride — we can now play games with our friends and family from all over the world without ever leaving the house. Which, let's be honest, allows us to stay home in cozy sweats and eat as many yummy snacks as we want without judgment.
With so many of the best board games having been adapted for smartphones and other devices, there are multiple games to choose from, including online board games for kids and two-player online board games. So, you can definitely still indulge in all the LOLs of a family game night during isolation. Below are six thrilling options worth checking out that are either free or for a small cost. Have a blast!
Interested in more games? Check out our fun pages on road trip games, minute games, farm games, musical games, games for babies, and more.
Best Online Board Games
1. Monopoly
The classic real estate game that never ends is available with Pogo or is available for a basic price as an app. You'll obviously have fun buying, trading, and maintaining Atlantic City properties, but you know the real fun comes from choosing your piece. Who doesn't want to be the top hat?!
Price: Free with Pogo account or available as an app for $3.99
Platforms: Pogo, App Store, and Google Play
2. Trivial Pursuit
For those who love trivia (and like to show off to others how much useless information they know), you can dive into the world of Trivial Pursuit. Play with your friends via PlayStation! It's a bit pricier compared to other games, but it's definitely worth the price for diehard fans.
Price: $19.99
Platforms: PlayStation
3. Clue
This classic whodunit game is available for free via ArcadeSpot, but it's definitely better if you pay for it via the other app stores. No matter which interface you choose, though, you'll definitely have fun guessing who did what in which room with the lead pipe (it's always the lead pipe, right?).
Price: Free low-tech version available online; official editions range from $3.99 to $11.99
Platforms: ArcadeSpot, Steam, App Store, and Google Play
4. Ticket to Ride
Okay, so we can't travel anywhere right now (*sob*). But we can pretend to as we play this classic cross-country train adventure. Players collect and play matching train cards to claim railway routes connecting cities throughout North America. Too small for you? Expansion packs featuring maps of Europe, Asia, the Nordic countries, Switzerland, India, Germany, the United Kingdom, France, and Pennsylvania are available for in-game purchase.
Price: Free web browser lite version; app costs $6.99 to $9.99
Platforms: App Store, Google Play, Steam, Amazon, and web browser
5. Game of Thrones
Game of Thrones might be off our screens, but winter is still coming as its own online board game. Join your friends for the battle for the throne where "players spread their influence across Westeros through a combination of strategic planning, masterful diplomacy, and military might." Suffice it to say, this one is probably best for older kids.
Price: $25.99
Platform: Steam
6. The Game of Life
Need to escape from reality? Spin the wheel in the Game of Life online board game and race your friends to reach retirement as you pick up various degrees, jobs, partners, children, and different homes along the way. The person who retires with the most money wins! Sure, that's a superficial way to look at life — but it's just a game and a super-fun one at that.
Price: $2.99 to $4.99
Platforms: Steam, App Store, and Google Play
7. Backgammon
Backgammon dates all the way back to ancient Mesopotamia, but today you can play this board game on your phone with friends. It even comes with a soundtrack and sound effects that make you feel like it's the real thing.
Price: Free
Platform: App Store
8. Scrabble
Scrabble with the family is no longer limited to holidays. If you're a scrabble junkie, you can get your fix at the touch of a finger. You can play with friends or strangers.
Price: Free
Platform: App Store
9. Yatzy
Who knew you could roll dice on your phone. Enjoy the feel and fun of playing this dice game with cool sound effects.
Price: Free
Platform: App Store
More Games To Play Online
Who said game night was canceled? This past year, you've probably used FaceTime and Zoom more than you ever thought possible. These tools are proof that being apart doesn't mean you can't still play with your friends. Zoom is for more than just work and school.
Bingo: Thanks to Zoom and free online bingo cards, bingo can happen anywhere. Assign one person to be the designated caller. You can still see everyone's reactions as numbers are called, and the excitement on someone's face when they yell "Bingo!" The winners will receive quarantine necessxities like a Seamless gift card, a bottle of wine, an at-home spa kit, or a pair of sweatpants.
Show-and-Tell: If you've bought a bunch of stuff during quarantine, raise your hand. The good news is, you're not alone. And what good is buying stuff if you can't show it to your friends, right? Well, during show-and-tell, you can. Show off that new pressure cooker, couch, or newborn baby! Then everyone votes on who brought the coolest item.
Charades: If your friend group has a flair for the dramatic play a couple rounds of charades. Pick a category and take turns acting out your favorite actor or animal.
20 Questions: This is a great way to get to know your friends even better! Each person on the Zoom call will be asked 20 questions. Everyone will come up with a set of interesting queries, and each one is asked in no particular order. For an exciting game, be creative when making the questions and put a few racy ones on the list to spice things up!
This article was originally published on