45 Paper Crafts Projects And Ideas That'll Keep You Busy For Hours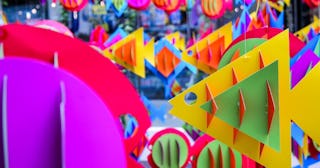 Rene Vincit/ Unsplash
Arts and crafts have been a kid-favorite pastime since pretty much the dawn of time. Remember all those practice needle points? Or when the Ingalls girls made paper-doll chains to decorate the log cabin? Paper crafts, especially, have always been a fun, cheap, and quiet way to pass the afternoon.
Following the novel coronavirus pandemic in 2020, we're all now acutely more aware of how important it is to have easy entertainment for the kids on standby. Therein lies the brilliance of crafting. For starters, little ones live for this kind of creativity. But also, you can count on having enough random supplies around the house to pull off paper arts and crafts at any given time.
Between Pinterest and the swirling vortex of thoughts in your head, though, it's easy to feel overwhelmed at the prospect. To that end, we created this handy-dandy guide just for you.
1. Mobile
Mobiles aren't just for babies. Help your kids fix two sticks together, then let them decide what sorts of fun shapes they'd like to cut or color for the mobile. Afterward, you can hang it over their beds or in a fort.
2. Paper Doll Chain
When was the last time you made a paper doll chain? Walk them through it a few times, then turn them loose with colorful paper. You can hang them anywhere.
3. Paper Lanterns
Battery-operated lights are optional. Make one each, or make enough to string across their bedrooms.
4. Paper Countdown Chain
How many more days until Winter Break? How many more weeks until your epic summer vacation to Disneyland? You know how to make a chain.
5. Paper Heart Wreath
That fancy designer paper you bought for the scrapbook you never finished will be perfect for this paper wreath. (What? Just me?)
6. Stained Glass Kites
You can use cut-up tissue paper for a more hands-off approach or melted crayons if you feel like helping with the iron. Either option is the perfect way to brighten up dreary winter windows.
7. Woven Paper Placemats
Have your kids stick to the color scheme of your next big family dinner. Or just let them go crazy with whatever favorite colors are hanging out in your craft bin.
8. Swimming Crinkle Fish
These fanned-out paper fish are especially fun to hang from the ceiling and are the perfect addition to any under-the-sea-type birthday party.
9. Christmas Village or Train Track Scenery
Your kiddos will love being included in decorating your normally off-limits Christmas village. But, they'll also have just as much fun changing up the look on their train table.
10. Pinwheels
Add your paper pinwheels to straws to give them a spin. Or use them as Spring decor by popping them down the front walk or sticking them in the picture window.
You may also enjoy: The Best Knock Knock Jokes That Will Knock You Over!
11. Ceiling Spirals
This papercraft spiral is such a great way for littler kiddos to practice their scissor skills. (Use construction paper or paper plates.) Afterward, they can dangle from just about anywhere.
12. Snowflakes
When you use extra-thick paper to make your snowflakes and stick them in the window, the light shines through and makes fun shapes on the walls. Plus, it's a great excuse to talk about being different.
Paper Cardboard Roll Creations
13. Minions
Once they've made the Minions, they can send the cute little guys on their own adventures.
14. Race Cars
You might want to make a paper race car or two yourself to show your kids how to add spoilers and other fun extras.
15. Marble Roller Coaster
Sure, you can just buy one of those uber-expensive plastic monstrosities. But, maybe start small with some handmade paper options, first.
16. Cardboard Ring Sculptures
Help out by slicing our cardboard tubes into rings of various widths. Then, let your kids paint them or color designs on them before gluing them to paper and each other. The abstract sculptures could even lead to an art lesson.
Paper Cardboard Roll Animals
17. Owls
Whoooo can make the cutest paper craft owl? Who-Who knows the most owl facts?
18. Elephant
Pretty soon, you'll come up with a whole menagerie of wild paper animals for their collection. That's when things really get fun.
19. Puppet
Ever get one of those marionettes made from thread spools? It's like that, but cheaper.
Paper Crafts To Wear
20. Masks
Will they go Mardi Gras or Animal-style? Once they've made the perfect mask, it opens their day up to a whole new world of pretend play.
21. Super Hero Cuffs (And headbands)
They could opt to be one of the Avengers or Super Friends. But, how about helping them come up with a superhero of their own creation and then making their own costume components?
22. Folder Paper Bracelets
Remember making these in camp? This paper craft definitely requires an older kid's fine motor skills… and patience.
23. Spiked Dinosaur Hat
Mama, this dino craft is probably all on you. But, you'll definitely win Mom of the Year if you pull it off.
24. Paper Hats
You don't even have to use fancy construction paper for this. Go old school with your leftover newspaper! What kind of hats can they create? Give them some "jobs" that need hats and let them take it from there.
25. Japanese Fan
This is another great paper craft for your leftover scrapbook paper. Or use white paper and let them research designs they can paint on.
Paper Crafts Just For Fun
26. Clothespin Puppets
Chomp, Chomp! If they need inspiration, suggest they make puppets to go with your favorite bedtime stories or songs.
27. Another (Wiggly) Fish
These moving paper fish require some serious scissor skills but are too cool not to try.
28. Chomping Fish
Surprise! The fish's mouth is way bigger than expected. Is there a secret message inside?
29. Paper Airplanes
Did you know that there are entire books devoted to making paper airplanes? Or you can just watch a handy video…
30. Ball Catcher
These DIY paper ball catchers are way cheaper and just as short-lived as those wooden paddleball things they get as prizes. But, just as fun, too.
31. Hopping Frogs
These origami frogs are so fun!
What more could a crafty kid ask for than a fun, easy way to become a dragon? It pairs well with the dino spikes. Maybe you need a round of these to use while watching your favorite dragon movie?
33. Memory Game
Whether you use patterned scrapbook paper, scrap fabric, plain construction paper, or white paper with matching drawings, your kids will have a blast creating their own game.
34. Paper Balloon
Anyone else have fond memories of begging their art teacher to make paper balloons for them? Now you can make your own! (JK. Your kids will want them.)
35. Origami Boat
Boat races, anyone?
36. Cootie Catcher
These suckers are so versatile! Will they use the model to create a model or tell a fortune?
37. Monster Page-Corner Bookmarks
Bonus: This paper craft can also be used to make school Valentines or just as sweet and free homemade presents for their friends and far-off family.
38. Origami Box/Secret Keeper
Littler kids might need you to make the box for them, but they can still pick out the paper and decorate it afterward. They'll also have fun deciding what to hide inside.
39. 3-D Blocks
With the right amount of enthusiasm, this could turn into an all-day crafting project and building experience. Let them go block-making crazy, then use the blocks to build whatever they want.
40. Crinkle-Winged Birds
These paper birds can be as cartoon-y or as realistic as your kids prefer. Bonus? They're another fun thing to suspend from fort or bedroom ceilings.
41. Photo-booth Props
Do your kids love to ham it up for the camera? How about helping them make a photo-booth and props?
42. Cards
Is Uncle Mike's birthday next week? Did you run out of time to print family holiday cards? Let your children and their nearly endless supply of craft paper do all the card-making work for you.
43. Mosaics
Cutting the squares is tedious if Mama does it. But, it's a blast for little kids using their safety scissors. The final masterpiece will be worth it.
44. Rockets
Whether they launch or not, making colorful rockets is still fun and a great way to key into your kids' interests. When you're done, take the rockets on a mission to find and explore new planets.
45. Racetrack
You made the cardboard tube cars, but where will they drive? No one ever knows what to do with black construction paper and this is your answer. Ahhh, we love it when two good crafts work together harmoniously to form a full day of play.
Related: 182 Hilarious Jokes For Kids That Adults Find Funny Too
This article was originally published on