What about Jack or Diane?
17 Totally Awesome Baby Names Inspired By Gen X Memories
These names have some serious nostalgia cred, hearkening back to the time before the turn of the millennium.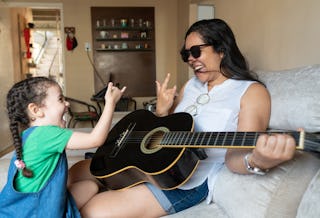 Pollyana Ventura/Getty Images
When choosing a baby name, we all revert to thinking back on our childhood and asking ourself, "Who does this name remind me of?" I'm convinced that's why we parents don't usually pick names that are ubiquitous among our classmates and peers; maybe we fought with a Jenny or were ignored by a Tracy, or dated a Danny who broke up with us... and so on.
Many parents also want to tiptoe around the current popular baby names and find a name that's unique but not odd. Well, there is plenty of inspiration to be had not just in current pop culture (hello, names inspired by Yellowstone) but in our way-back youth, or at least in my way-back youth, back in the dawn of Gen X.
The '80s and early '90s saw an explosion of pop-culture phenomena — movies, TV shows, songs and supermodels — that can now be mined for overlooked, underutilized baby names. Several of these can even work for a boy or a girl. Let me introduce you to a few Gen-X-inspired names to consider.