Bath Toy Storage Solutions That Keep Your Tub From Looking Like A Plastic Hell Zone
Make sure your tub doesn't turn into yet another toy bin.
by Nichole Talbot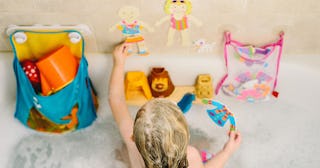 Getty Images
We may receive a portion of sales if you purchase a product through a link in this article.
A good bath toy storage solution is your ticket to zen. The bathroom is universally recognized as a place of retreat, a space to relax and unwind after a long day. Unless you have kids, in which case the bath becomes yet another playroom and opportunity for a mountain of mess. We've all been there: The bathtub becomes a sea of primary-colored toys, bubble bath, and baby sponges that threaten to take over. It's an epic household battle of taming the endless kid clutter, and we're gonna win this thing, come hell or toy-filled bathwater.
Whether you have your own bath or share one with the kids, a storage and organization plan will keep your space tidy and maintain your sanity. It's also a healthy practice—safe storage helps prevent mildew growth because nothing will spoil a fun bath sesh like bacteria-infested toys. Most importantly, getting a handle on kids' stuff in the bathroom will make room for YOUR things, like some extra-soft towels and your favorite soaps, shampoos, and conditioners. And who knows, maybe some space-saving toy storage will inspire the kids to pick up after themselves. It's a good day for believing in miracles.
Best Bath Toy Storage
Hang this happy hippo in your child's tub for some colorful storage for their favorite bath toys. It's available in four other colors – a yellow duck, a pink hippo, a blue shark, and brown monkey – to coordinate with most kids' bath décor. The structured mesh bag allows for air circulation so toys dry out between uses.
One Reviewer Wrote: "I got this 10 years and five children ago... it has held up strong. I'm writing this review after giving my son a bath tonight as I thought, wow, I can't believe this thing is in such great shape. We are using the original suction cups, and it has no mildew or mold on it. It even holds our heavy singing bath dolphin." — FitMom
When all you want is a simple bag that holds a crap ton of stuff, this one's a good bet. The Tenrai mesh bag is extra wide, nearly five inches, to fit more toys and create even more airflow. It's also constructed with all YKK fasteners for added durability to stress points like zippers and hooks. Outer edges are sewn with three layers of stitching to resist stretching and tearing from wild little hands. A bottom zipper allows for easy toy access, too. The multiple ways to hang are also a plus—fabric tabs fit a standard towel rack for a long-term solution or included grommets are compatible with wall-sticking hooks.
One Reviewer Wrote: "I have been looking for a toy holder that actually works for a while. This one holds tons of toys and the Velcro stays on well! I haven't tried the suction cups yet, but they look better than others I have tried. Wish I found it a while ago!" — Elizabeth
Ok, so this isn't exactly kid-themed bath storage, but it's so good it's worth a mention. If it's been a long day of parenting and you don't care to see another toy for the rest of your life, these storage bins are for you. Outta sight, outta mind! Keep bath toys stowed away under the sink and stacked in clear plastic bins so you always know what's inside. A latching lid with a handle keeps things secure and easy to transport if need. You'll need to dry off toys first to prevent mildew and other sliminess, a small price to pay for a clutter-free bathroom.
One Reviewer Wrote: "Great bins for kids' toys. Perfect size for Playdoh sets, play foods, and legos! Bins are good quality and have a great locking mechanism." — Leannette
Best Bath Toy Holders
Who doesn't love Skip Hop's adorable line of kids' products? Their color palettes and whimsical designs have some serious style that even many parents appreciate. They also happen to be super functional and well constructed to withstand lots of use. This scoopable toy holder has a bag and handle design to make after-bath cleanup easy. Water drains out from the mesh bottom, and there's a nifty zipper for quick toy access. When you're done, simply use the included suction cup to hang it up and let dry.
One Reviewer Wrote: "Love this product! Holds so many bath toys. Love that it's mesh so everything can dry. The scooping feature is super cool, it makes my kids actually want to pick up their bath toys. I chose the suction cup attachment to hang ours, which is SUPER durable & hasn't fallen down once yet! But, there's also a wall mount that would allow you to screw it into the wall for a more re-unforced hold once you've placed it back onto the holder full of toys. Skip Hop brand never disappoints!" — Kylie Spiers
Sometimes you just need a storage solution that's no frills, simple, and functional. The Ubbi caddy fits the bill. It has a sleeker, more grownup look that blends with most bath decor (bright colors are fun but not for everyone). The caddy features a scoopable design for quick toy cleanup. The best part about this bin is the bottom— large holes drain into a detachable plastic holder that catches the water so your bathroom floor stays dry. With more than 6,000 five-star ratings, this one's a keeper.
One Reviewer Wrote: "Cute and high quality bin for my son's bath toys. Fits perfectly in our tub. Holds a lot of toys! And is very easy to clean. Definitely recommend to parents of toddlers." — Sara
Best Bath Toy Organizers
Do you need to corral a boatload of bath toys? The Comfylife organizer set includes two mesh bags for all the things. The larger bag is great for most toys, and the smaller one includes pockets for soap and shampoo. Many reviewers agree that the suction cups are the stars of the show.
One Reviewer Wrote: "Easy to put up, strong suction cups and durable. Can hold a bunch of items and is quite large! Highly recommend, it is budget friendly as well" — Christen F.
Parents, this one's for you. You've probably clocked some serious hours giving baths and have the sore knees to prove it. Give your legs a deserved break with the Benicci padded bath kneeler. Its 1.5 inch thick pad is nice and cushy, and a non-slip base helps prevent falls. The accompanying bath organizer hangs over the side of the tub and features several pockets for toys, soap, shampoo, and other essentials. Included elbow rests are also a plus for those extra-long bubble bath sessions.
One Reviewer Wrote: "I am an old mom and for my first I didn't think I needed one of these or didn't make it a priority. Now that I have one I'm yelling at my past self. Super cozy and comfy. Really helps the bathtime experience. And I can also use it as a seat to watch my kids swim around in the tub or show me some new trick they thought up.It makes bathtime a lot more comfortable and easy on my joints. I for sure would recommend this to anyone. I mostly use the mat because that's what I needed the most." — Adelina
Kids can enjoy all of their toys up close and personal in the Munchkin bath toy caddy. A favorite of kids and parents, the wide plastic organizer fits most bathtubs and keeps toys within reach to reduce the chance of slips. Place it in front of the tub's water spout to prevent injury. Three adjustable compartments and two trays fit small to medium-sized toys, and a detachable holder can be used for soap, a washcloth, or even more toys. Drain holes are everywhere to eliminate standing water and help with air drying.
One Reviewer Wrote: "This product works great!! It's easy to set up and just as easy to move if an adult wants to shower. My toddler loves being able to help clean up at the end of his bath and he can easily do it all by himself with this. He's kicked it a few times while 'swimming' and it didn't budge! I also love that you can see all the toys so he can pull out what he wants rather than dump everything for one toy." — Frances
Moby the whale has plenty of space for lots of favorite bath toys. Its space-saving design tucks away into the corner thanks to strong suction cups. Or you can hang it on a towel rack or hook with the included strap. Neoprene construction adds durability and allows the bag to keep its shape. The zippered mesh bottom creates easy toy access and good airflow for drying.
One Reviewer Wrote: "Great suction, it hasn't budged even as more toys have been added. It's cute and keeps all the toys contained while also letting them dry and not get moldy. Not huge, but holds a full set of foam letters and numbers, set of toy buckets, and some rubber duckies." — LlamaMama
If your kids are more fond of sharks over whales, this JOJOOKIDS storage set is sure to delight. In fact, based on the way its designed, it may turn into a bath toy all by itself. This quick-dry mesh caddy comes with four strong suction cups and extra hooks to make sure it stays in place. It even comes with a set of foam numbers to bring a little education to tub time.
One Reviewer Wrote: "I bought this to hold my baby's bath toys and I'm very happy with the product. I had no issues installing it in the shower - the suction cups worked great. However, they also sent additional hooks that stick to the shower in case you have a problem with the suction cups. I thought that was a really great idea. It fits all my son's toys and there's still room to add more." — Emily
Now that's bathtime's sorted, get them into their jammies and off to bed!
This article was originally published on