The 7 Best High Chairs For Baby-Led Weaning
We only recommend products we love and that we think you will, too. We may receive a portion of sales from products purchased from this article, which was written by our Commerce team.
by Lauren Beach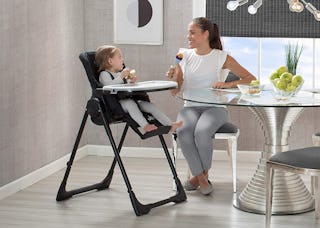 I'll be the first to admit I didn't spend as much time researching high chairs as I did other safety-related purchases like car seats. However, choosing the best high chair for baby-led weaning can be critical in ensuring your baby is comfortable, stable, and ready to eat. Scary Mommy reached out to Jennifer House, a registered dietician, speaker, and author, for guidance in choosing this important piece of baby-led weaning gear. As House emphasizes, "High chairs are such an important part of feeding that [they[ often get overlooked. [...] A supportive seat makes it easier to eat!"
The Expert
Jennifer House is a registered dietitian, owner of First Step Nutrition in Calgary, Alberta, and a mom of three. She has a BSc in Nutrition & Food Sciences from the University of Alberta and an MSc in Human Nutrition from the University of British Columbia. She is the author of The Parents' Guide to Baby-Led Weaning and Baby Food in an Instant Pot. Jennifer is a member of the College of Alberta of Dietitians and chair of the Consulting Dietitians Network at the Dietitians of Canada.
What To Consider When Shopping For A High Chair For Baby-Led Weaning
Lots Of Adjustments
Thankfully, most high chairs have a variety of adjustments to ensure your baby is secure and comfortable. To eat safely, House suggests making sure your baby is at a "90/90/90 [degree] angle [at their] hips, knees, and ankles." While most high chairs have reclining positions, she warns, "Avoid the recline position for eating! We need our babies to be sitting upright to swallow safely."
Stability is also key. House underscores, "A footrest is very important and isn't included on all high chairs. [...] It's much harder to stabilize the body to pick up food, get it to the mouth, chew, and swallow without foot support." She says this can even prevent choking, which is why all of our picks below include a footrest — many of which offer adjustable settings. House recommends avoiding clip-on style high chairs if you can because they typically leave a baby's feet dangling.
To Tray Or Not To Tray
Chairs with a removable tray allow you to pull your baby right up to your dining table, as long as the chair has an adjustable height setting that matches your table. All of our choices have several height adjustments to ensure a just-right fit.
House says, "While trays can prevent babies from 'swiping' food directly onto the floor, I prefer the high chairs that pull right up to the family table, so your child feels like a part of the family meal."
Whether you choose to use a tray or not, she recommends ensuring the height of the baby's eating surface is between the baby's nipples and their belly button.
Easy Cleanup
To keep cleanup simple, House prefers wooden high chair models over fabric ones, where food can get trapped in the fabric's weave and crevices. Several of our favorite high chairs below are made of wood, but know that you'll pay more for them and they are heavier than other options. For those shopping on a budget, look for high chairs made of synthetic materials, which have the added bonus of being lightweight and easy to move around and put away between uses. All of our picks can be wiped down with a damp sponge or feature machine-washable seating pad covers — let's make our lives easier where we can.
If you choose to go with a tray model, you may appreciate a removal tray insert (or removable tray) that can be easily popped in the dishwasher after a meal. That's essential because letting baby leads means things will get messy.
Lastly, know that many of our picks are Juvenile Products Manufacturers Association (JPMA)-certified, which means they have voluntarily been independently tested to meet safety standards and performance.
From meal time to snack time, we've rounded up the best high chairs for baby-led weaning so you can let your baby explore the exciting world of food.
The Expert
Jennifer House, Registered Dietitian, author of The Parents' Guide to Baby-Led Weaning, and owner of First Step Nutrition.