The 11 Best Kites For Kids For Fun, Easy Flying
We only recommend products we love and that we think you will, too. We may receive a portion of sales from products purchased from this article, which was written by our Commerce team.
by Lauren Beach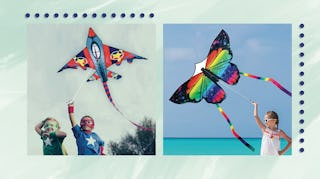 Flying a kite is a rite of childhood. Or, should I say, trying to fly a kite. Usually you're pleading for more wind, or less wind. Or a longer string. Or for the thing just to soar long enough to awe your little one. And that's where the best kites for kids come in: They make it a bit easier to get them in the air — and stay there — for a frustration-free experience. Whether your family is new to kites or already kite-obsessed, you'll find your perfect pick here so you can have a great time outside.
The Best Entry-Level Kites For Kids
Delta Kites are one of the easiest kites for kids to fly. Their balanced triangular shape makes flying them a steady and gratifying experience. Eye-catching and designed to glide even in lighter winds, they come in a variety of fun prints.
Diamond Kites are a classic for a reason. They are affordable and while they're easy to fly, they benefit from having a tail attached to keep them steady.
Parafoil Kites are soft kites that can't break during a crash landing. Because they don't rely on rods for their shape, they can be large, three-dimensional, and look great in the air. While the previous types may fold down for storage, parafoil kites are the easiest to tuck into a beach bag or luggage because they don't have rods.
The Best Kites For Older Kids
Larger models are exciting and offer kids more of a challenge, as do kites that can be connected and flown from the same line, a technique known as stacking. Most of our choices are single-line kites aimed at younger kids and beginners, but when your kids are ready for tricks (or to watch you do them), look for dual-line kites like our Prism Kite pick below.
Large Or Stacking Kites are really exciting to see soaring in the air. Just know the added weight of a large kite or multiple kites on a line calls for a windier day to get them up there.
Dual-Line Kites or Stunt Kites are for more advanced kite fliers who want to experiment with tricks and more precise moves. The added line allows for more control while maneuvering aerobatic moves.
No matter which one you choose to fly, all of the kites below are highly rated by reviewers, ranging from simple and modestly sized picks to unique and extra-large choices for more advanced soarers. Keep in mind the larger the kite, the harder it pulls in the wind — so smaller kites are best for younger kids and less experienced fliers. For your convenience, we've noted the dimensions for each kite below (keep in mind that some of the fun designs have tails or pieces that extend beyond the main frame of the kite).
Now, get outside, throw caution (and your new kite) to the wind and enjoy this family fun activity.