The 11 Best Maternity Pants For Work — No Matter Where You Clock In
It's time for some professional comfort.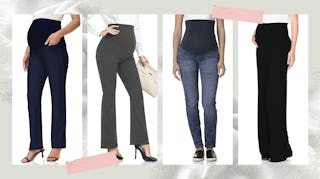 We may receive a portion of sales if you purchase a product through a link in this article.
On a recent scroll through my newsletter-heavy inbox, I found something surprisingly delightful. The author recounted her return from a work conference and quipped that there is a difference between sit-down pants and stand-up pants. Suddenly, everything clicked. I had the clarity to understand why, no, I absolutely cannot sit at my desk for an entire workday in my favorite denim. Comfort is key, and even more paramount when you're expecting. The best maternity pants for work are stretchy enough to grow with you throughout your pregnancy, and as comfy as they are work-appropriate — whether you WFH or go into an office every day.
What Are The Best Maternity Pants For Work?
The common denominator among the different sorts of maternity pants is, of course, a waistband that stretches for a growing belly throughout your pregnancy. This can take the form of either a stretchy panel or below-the-belly band — either one makes for an excellent pair of sit-down pants. However, as industry and work environment vary, the pant style follows suit. If you're in healthcare, you'll be on the hunt for cute maternity scrubs. A morning-to-night work routine might require classic black trousers. And if you're a WFH mom-to-be, you'll want joggers for your cozy days and maybe something more chic when you just want to feel like a person (at least, that's my experience).
Ahead, we've got the best maternity pants for work to keep you comfortable as you both grow a human and hit those Q4 goals. P.S: You're a rock star.
In a hurry? Here are the top picks for the best maternity pants for work:
1. The Best Maternity Dress Pants For The Office: POSHGLAM Maternity Pants
2. The Best Maternity Jeans: Motherhood Maternity Stretch Jeans
3. These Best Wide Leg Maternity Pants: My Bump Palazzo Pants