9 Maternity Swimsuits That Will Grow With Your BB Bump
by Katie Bond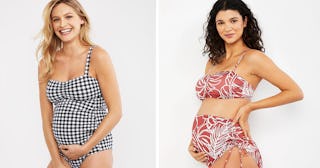 Motherhood / A Pea in the Pod
Summer is upon us, and that means it's time to start shopping for the best maternity swimsuits of the year. Whether you are early in your pregnancy or getting close to bb's arrival, you'll definitely need a comfortable maternity swimming suit in your arsenal (and a due date calculator, mama because time really does fly). And just like with jeans, and maternity bras, you need actual maternity products. Your favorite swimsuit is just not going to cut it as the bump starts to grow. Show off whatever stage you're in, even if you're just letting everyone know there's going to be a baby! Once you pass month 4 or 5, your fashionable bump will become your main attraction.
RELATED: Pregnancy Due Date Calculator: When Is Your Baby's Expected Due Date?
Can you wear a regular swimsuit while pregnant?
Of course you can, but there are some pretty big differences in normal swimsuits versus maternity swimsuits. Swimsuits for pregnancy are made with stretchier materials, they have a softer belly, and the sizing is more likely to be correct. If you purchase a normal swimsuit, be sure to size up to ensure extra comfort. Fashion swimsuits that are not made specifically for pregnant women often have designs like cross straps, hooks, etc. As a woman with a very small bladder at the moment, that's something you *don't* want to deal with. Another reason why maternity swimsuits are the perfect option when pregnant: they're made just for you, Mama!
RELATED: The Most Gorgeous (And Most Importantly, Comfortable) Maternity Photoshoot Dresses
Below, you'll find high-quality online maternity bathing suits that are stretchy in all the right places, and stylish to boot. We're talking pretty patterns, trendy cuts, maternity tankinis, maternity one piece suits, and yes, even a few maternity bikini sets to flaunt that gorgeous belly of yours. Because every mama-to-be needs a comfortable poolside pregnancy bathing suit to wear when lounging like it's her J-O-B. Well deserved.
RELATED: The Best Maternity Summer Dresses, Because Pants In The Heat = Hell
Best Maternity Swimsuits
Best Maternity Tankinis
Best Maternity Swim Dresses
Looking for more maternity fashion? Shop more fashion essentials to complete your mama-to-be wardrobe!