The 8 Best Sleds For Toddlers — Because You Need Something To Burn Off All That Energy
Bundle up and hit the hill.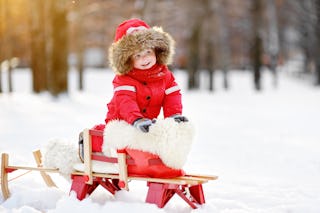 Shutterstock
We may receive a portion of sales if you purchase a product through a link in this article.
Cold-weather adventures require a lot of planning when you have kids. There are all the snowsuits, hats (if you can manage to keep them on their heads), boots, mittens, and more — not to mention the inevitability that your little one will have to go to the bathroom the second you've gotten them all bundled up. But once you make it outside (at last!) sledding can be a great way to burn off all that toddler energy (though to be honest, towing a sled is a good workout for parents, too). The best sleds for toddlers have safety features to keep little ones inside and are durable enough to withstand plenty of tough handling so they last more than one season.
What To Consider When Shopping For The Best Sleds For Toddlers
Here's what you need to know to find a toddler-safe sled so you can enjoy that classic winter-time activity.
Size
Whether you're looking for a seat to pull your little one or something faster that can zoom down a small hill together, there are numerous sled sizes and styles to choose from. While shopping, look for either the recommended age or maximum weight limit so you can get a sense for how long you'll be to use the sled.
Safety
It's important to always take precautions when sledding. Avoid hills that are too crowded or that have hazards like trees or rocks. You'll also want to find sleds that have safety features built-in. Look for ones with some degree of steering capabilities — inflatable snow tubes and discs without runners will generally be harder to steer. And for maximum safety, know that the American Academy of Orthopedic Surgeons (AAOS) recommends that children under the age of 12 wear helmets while sledding to prevent head injuries.
Ahead find the eight best sleds for toddlers that will let your whole family enjoy some slip, sliding fun together.