14 Strapless Bras That Don't Feel Like A Boob Straightjacket
by Nichole Talbot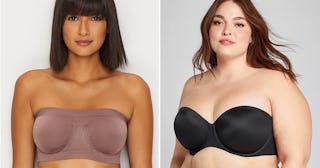 Bare Necessities/Cacique
You probably didn't have "find the best strapless bra" on your summer bucket list, but here we are. Warm weather's here, and with it comes a calendar of events and outings befitting your favorite sundresses, off-the-shoulder tops, and spaghetti strapped outfits.
Strapless bras get a bad rap for good reason. The worst of them dig into, roll over, and slip along the chest and back, and require regular adjusting. Let's not even get into the unwanted boob sweat (*cue the collective groan*). One friend called strapless bras torture devices. Another said, "Oh hell no, never again."
The good news is that finding a great, well-made strapless bra is possible! But getting one with a good fit is critical. Strapless bra design has to defy the laws of physics because they have to perform like a traditional bra without the assistance of shoulder straps. They also have to provide lift and shape that's natural-looking, while offering coverage and support at the same time. And for those of us who've gone through pregnancy and breastfeeding, the girls aren't exactly, ahem, as perky as they used to be. So how do you find the best strapless bra?
What's the correct fit for a strapless bra band?
For all the reasons mentioned above, a strapless bra isn't going to fit exactly like a traditional one. Courtney Killpack, owner of Bra Fittings by Court and Bosom Besties, recommends getting professionally fitted for these special occasion bras. "A well-fitting bra can change your life and it's a worthy thing to invest your time, energy, and money into because you wear these things every single day," says Killpack.
The band has to provide nearly all of the support, so it should be snug on the loosest set of hooks so you can tighten it as the bra naturally stretches out over time. "The lower the band is in the back, the more supportive you'll look in the front," says Killpack.
Start with your normal bra size, and adjust as needed for support. Support increases with bandwidth, so for those with larger cup sizes, look for bras with thicker bands and three to four hooks.
What's the correct fit for strapless bra cups?
Strapless bra cups have to support the weight of your breasts without straps, stay put, and be comfortable all at once. Getting your accurate cup size will make your silhouette look natural under your clothes, which is especially important if you're wearing a figure-hugging dress or top.
Killpack recommends looking for a bra with a gore — the middle area where the two underwires meet in the center front — that lays flat against the chest. "You want to have at least 1/4″ space between your breasts and the underwires, this will make it so when you move you don't come out of the bottom of the bra, and the underwires aren't digging into your breasts on the sides," she says.
Balconette or demi cups and padding will up the sexy factor with some push-up action, but pay attention to fit and feel. Lift and separation are good, spilling out the sides, not so much. If your cups runneth over, try going up a size.
Do a Google search for a professional bra fitter in your area, or use Killpack's bra-sizing calculator to fit yourself. Now that you have the tools to get a custom fit, it's time to pick out a great strapless bra! We've sourced some of the best for all shapes and preferences, including plus size and full-figure silhouettes. And while you won't be running a marathon in a strapless bra, there are a couple of sportier strapless bras for your next yoga sesh on the list too.
Best Strapless Bras
Best Plus Size Strapless Bras
Best Strapless Sports Bras
On the search to revamp your entire bra collection? We've got you covered in every area! Check out our top picks for best sports bras, backless bras, and stick-on bras!
This article was originally published on