Gift Shopping For A 3-Year-Old? These Are The Best Toys & Games, According To Experts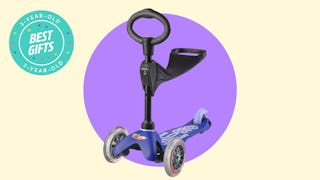 The best gifts for 3-year-old boys and girls are toys and games that are educational, can stimulate imagination, and of course, are fun! As the tiny person in your life continues to grow and develop their skills, you might be wondering what kind of gift is appropriate for a 3-year old. Not a baby on the play mat anymore and moving towards pre-school, 3-year-olds are active, communicative, and headstrong. They are learning to engage more meaningfully with a wider variety of people as well as flex their cognitive skills. What kind of gifts will help them learn to co-exist in the larger community and exercise their creative spirit (and also help them burn energy because, YIKES)? So if you're looking for gift ideas for a 3-year-old's birthday or Christmas present– or maybe a unique toy for the toddler who has everything — well, you're in luck!
For more gift inspo, check out our toys for 1-year-olds, 2-year-olds, 4-year-olds, 5-year-olds, 6-year-olds, 7-year-olds, 8-year-olds, 9-year-olds, 10-year-olds, 11-year-olds, and 12-year-olds.
What are the best kinds of gifts for 3-year-olds?
Rashelle Chase, an early childhood educator and KinderCare team member, explains that 3-year-olds "learn the best through play, and optimal learning happens when children are relaxed, engaged, and having fun." Gifts for the 3-year-old in your life should help them build foundational skills, Chase says. She recommends gifts that are open-ended like blocks, Play-Doh, and dramatic play materials, as well as cooperative toys for building social skills and gross motor skills.
"Maybe it's one of Dad's old shirts or perhaps it's a favorite costume, but dress up and make-believe never go out of style," she says. "Combined with materials like play food and kitchens, dolls and stuffed animals, children can have a great time acting out endless scenarios." For kiddos with siblings or who enjoy playdates, "cooperative toys and games help children develop social-emotional and executive function skills like taking turns, sharing, and cooperation,." Then, there's brain development. "Board games, memory games, and simple card games help children develop their working memory, math, and fine-motor skills," she explains. And, let's not forget those motor skills. "Trikes, balance bikes, scooters, and balls give children an opportunity to burn off energy while refining their gross motor skills by pedaling, balancing, negotiating space, as well as exercising hand-eye coordination," Chase says.
With all these recommendations in mind, we've curated the best gifts and toys for the 3-year-old in your life. And P.S., there's more! You'll want to check out our picks for the best jungle gyms, playhouses, water tables, activity tables, outdoor play sets, and climber slides (whew!) too!
**Please note: All these picks are great for either boys or girls, but since some people like to search for gifts based on gender, we wanted to include some options!**
Best Gifts for 3-Year-Olds
Best Gifts For 3-Year-Old Boys
Best Gifts For 3-Year-Old Girls
Best Gifts For 3-Year-Old Boy Who Has Everything
Best Christmas Gifts For 3-Year-Old Boys & Girls