Watch This Dad's Heartfelt Moment As He Sings To His Preemie Baby In The NICU
The talented dad sang a verse from "Hallelujah Here Below" by Elevation Worship while holding his newest son.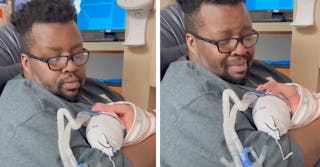 TikTok / Daniel Johnson
An incredible moment between a father and his newborn son is going viral on TikTok — and for good reason. It's near impossible to not well up with tears watching this tender moment as a dad — Daniel Johnson (aka @fritojohnson89 on TikTok) — cradles his newborn preemie son in the neonatal intensive care unit while softly singing to him. What happens at the end is truly a "need to see it to believe it" kind of moment.
In the now-viral video posted by Johnson, a voiceover speaks and on-screen text explains, "That moment you're singing a worship song to your NICU baby and he raises his hands in worship."
Johnson, 33, then begins singing a verse from the worship song "Hallelujah Here Below" by Elevation Worship while holding the newborn newly named Remington Hayze Johnson.
As Johnson continues to sing "Hallelujah," Remington stretches out his small right hand, seemingly praising along with dad as he croons. Unsurprisingly, emotion overtakes Johnson who cannot make it through the rest of the song.
In the caption on the video, which now has over 1.2 million views and over 235k likes on TikTok, Johnson explained that Remington was born four months early with only a little over 20% chance of survival. He is now 2 and a half months old.
"Proof that God is faithful. Born 4 months early and given a 21% chance of survival. Today we are 2 1/2 months old giving God all the praise He deserves," Johnson wrote.
Johnson's wife, Emily, was the one who caught the special moment on film, describing the experienced like no other she has ever witnessed.
"The minute the word 'hallelujah' comes out of his mouth for him, to extend his arm like that, there's not an experience like it," Emily Johnson told Good Morning America.
"It really shows you in that moment. God is here … and everything is going to be OK."
Johnson, a truck driver and wife Emily, a receptionist at an animal clinic, are parents to two other children besides Remington, who was born early at just 22 weeks.
Since then, Remington has been at the NICU at Baylor Scott & White Medical Center in Temple, Texas where Emily said he's had to receive a variety of treatments for his underdeveloped body, including steroids for his lungs and shots for his eyes.
The good news is that the little bundle of joy has made huge strides since coming into the world a bit early.
"We went from a full respirator with full feeds, had to have his eyes covered up all the time, had to be in an isolette that was regulating his temperature for him to … a CPAP, from the CPAP to the nasal cannula, and now they're weaning him off of that. And we've gone from having meds every three to six hours to he's off all medications now," Emily Johnson said.
Johnson, who has been shocked at their sudden popularity, said that their journey since Remington's unexpected early arrival has been been filled with ups and downs. He credits his faith with getting him through.
"It's been an emotional ride and … the video definitely showed how I felt because he's a miracle baby in every sense of the word," Johnson said.