Happy Birthday! These Coloring Pages Are A Wish Come True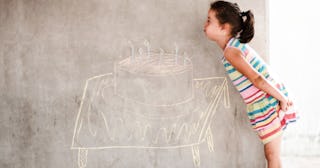 Westend61/Getty Images
Birthdays are simply the best time of year. For kids, though, the wait for the party (or lack thereof) can be a bit overwhelming. One way to keep your kiddo calm before a big birthday bash? Birthday-themed coloring pages! They're also handy when you need a quick, easy, and free last-minute idea for entertainment at a birthday party that doubles as DIY kids' activity. Whether your clown didn't show up or the cousins are reenacting last year's WrestleMania main event, coloring pages are the answer. There's nothing calmer or quieter than these printable coloring pages… except sleep. And you know that's not going to happen.
At the right age, coloring pages are not only super fun but also beneficial to development. Studies show that coloring helps kids develop focus and concentration skills needed in school. That also translates to being calming and stress-reducing. (Yes, even little kids can be stressed out — especially before big events, like birthdays.) Finally, learning to stay inside the lines teaches your kiddo self-regulation and helps develop other fine motor skills.
As a bonus, Mama, coloring offers those same benefits for adults as well. Sure, these coloring pages are simpler than the printables designed for adults. But even spending time at the table and coloring kid-friendly pages with your kiddo could have a positive impact on your own mood, memory, and focus.
Free Happy Birthday Coloring Pages
1. Happy Birthday to You
This printable isn't just a regular coloring page. It could totally double as a birthday card for Nana, Pop, or Auntie. The pretty scrolling cursive font is a little less childish, so your tweens might enjoy this print, too. Fun fact: More than one billion birthday cards are sent each year in the United States. Besides keeping b-day cards, it's important to have your birth certificate on file too. Although it may not be worth $84,146, like Paul McCartney's, keep it in a safe place.
2. Birthday Guests
Who doesn't love coloring pictures of their friends? For this page, suggest your kiddo decides who these cute party guests are. Are they friends from school? Cousins? Or characters who get their very own names? They're so simple, it's easy to dress them up in whatever style your kiddo thinks best fits. Did you know 58 percent of the cards sold in America are birthday cards?
3. Girl at Her Birthday Party
Gosh, that cake looks scrumptious. Ask your birthday girl to tell you about what kind of cake they think is in the picture and have them decorate it however they want. If you're practicing drawing skills, you could suggest they fill the white space by drawing more party guests. And did you know that there are a lot of August babies? Nine percent of people celebrate their birthdays during this late summer month. The most common birth date is Oct. 5, and the least common is May 22.
4. Boy With His Birthday Gift
What's in the box, birthday boy? This sunny guy looks oh-so-excited to open a present. The simple picture will be easy to color for beginners but offers lots of room for interpretation for kids who are more advanced with art supplies. Fun fact: In China, a newborn is considered one, so those standards would age you two years.
5. Birthday Things
What kind of fun things do you look forward to at birthday parties? What kind of ice cream is that, and what colors are the candles? You can easily let bigger kids turn loose on their own, but this page is yet another chance to chat your way through some quiet time… if you want. (Or you can run and try to do all the millions of things on your "to-do "list before they get bored.)
6. Happy Birthday to You Balloons
We love balloons! Who doesn't? While this page is fun all on its own, the balloon design is easily mimicked so your budding artist can practice drawing balloons and adding them to the bundle. Besides being staple birthday decorations, balloons are even used to save lives. Surgeons use tiny balloons to help unblock blood vessels.
7. Birthday Party
Surprise! That looks like what they're saying, right? The sweet but tiny details on this picture will require a lighter hand and a bit more focus, but it'll be super cute once it's brought to life with color.
8. More Birthday Party Fun
Another crowd shot! This one offers even more detail and some decorations. However, there's still plenty of room to personalize or add on. Where will your child's imagination take them with this one? And if you think that cake is big, did you know the world's largest birthday cake was baked in 1989? It was 128,238 pounds and eight ounces and used 16,209 pounds of icing.
9. Boy With Birthday Cake
As mamas, we think this one looks like it's going to end badly. He's definitely about to swipe his finger through the frosting. But that's what birthdays are all about. Fun fact: Did you know William Shakespeare died on his 52 birthday!? What are the odds?
10. Happy Birthday!
We have here another simple design that could easily double as a birthday card or picture for a friend or grandparent. You could even print this on colored paper to make it all the more special. How cool would that be? Late child actress and American sweetheart, Shirley Temple, received 135,000 presents for her eighth birthday. Goals, am I right? Did you know that if a snail was to begin moving on your birthday, it would have traveled 263 miles by your next birthday? A person can stroll the same distance if they walked nonstop for three days.
Click here to print all of the happy birthday coloring pages at once!
This article was originally published on