The Best (And Most Quiet) Generators To Have While Camping
by Laura Hennigan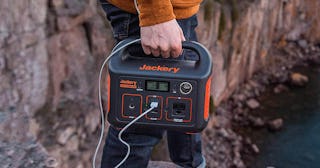 Amazon
In order to stay connected while among the great outdoors, you're going to need a quiet generator. Whether it's camping in a traditional sense or glamping in a tricked-out RV, more and more people are hitting the road, getting back to nature, and taking all their devices with them. We've all got the standard packing list: tent, chairs, activities for the kids, and of course, s'mores supplies. But have you thought about bringing along some extra power as well? Even if you're feeling super outdoorsy and plan to use the vacation to get off the grid for a few days, you still need to keep all your devices charged in case of emergencies.
There are many generators on the market designed to be lightweight, portable, and perfect for a camping adventure. Whether you need to charge your phone, tablet, mini-fridge, or coffee maker, investing in a small, quiet generator can be a travel game-changer. There are different options, including units powered by gas, propane, electricity, and even solar panels. You've got to consider things like size, noise level, and level of fumes emitted, and more to find which quiet generator is best for you and your trip.
To help you out, we've rounded up the best quiet generators for your time in nature! Get one ASAP to ensure your camping journey is infinitely more comfortable.
Best Quiet Generators
Best Small Generators
Best Portable Generators
Best Camping Generators