16 Wear-Everywhere T-Shirt Dresses That You'll Live In This Summer— Even At Home
by Anjerika Wilmer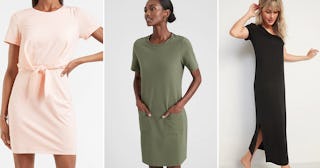 Express / Banana Republic / Old Navy
As you actively seek out ways to stay cool, you'll also want to make sure that you're dressing the part with a cute t-shirt dress. (Translation: not clingy, hella comfy, and extremely versatile.) Going hand-in-hand with that flattering one-piece swimsuit that you just scored a few weeks ago—and those '90s-approved bike shorts that you almost talked yourself out of buying—an elevated t-shirt dress is about to become your new summer uniform. Ultimately, the fit should be so nonchalantly effortless that it looks like you're not even trying (because…you're not). When the compliments roll in from other moms, your automatic response will be "Oh, just tossed this thing on."
RELATED: The Best Maternity Summer Dresses, Because Pants In The Heat = Hell
Wear it as a cover-up, throw it on for a farmer's market run, or take a hammock nap in it (squeeze in those precious Zzzs when you can). In case you can't tell, functionality and spontaneity are big factors here. Best coupled with a bucket hat, sandals, and a denim jacket when it gets chilly at night (or the A/C is on blast!), a wear-everywhere t-shirt dress won't steer you wrong. With styling inspo from fellow mom bloggers like Amber Fillerup Clark blessing our IG feeds, the FOMO is getting real.
Coming up are 14 of the best t-shirt dresses that you can buy now and wear all summer long (and fall, and next Spring, you get it). Whether you're on the hunt for the quintessential black or white t-shirt dress, something striped, or even tie-dye, we've got all your style bases covered.
Best T-Shirt Dresses for Women
White T-Shirt Dresses
Best T-Shirt Maxi Dresses
T-Shirt Dresses With Pockets
In need of a few summer pick-me-ups? Check out our fashion section for more mom-approved fashion finds!