Oh Come On— You Know The Kids Need A Sweet Little Valentine's Day Gift And Those Damned Card Sets For School.
by Kyle Schurman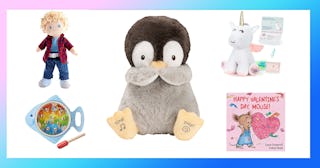 Amazon
Valentine's Day gifts for sons, daughters, toddlers, and older kids all look a bit different. (Oh, and uh — don't forget to get something special for your partner). And sure, the occasion may be for lovers, but we don't need a good excuse to pick up a few extra gifts for the kids, too. After all, we love 'em, right? There's no reason to go overboard with gifts (of course, try telling the in-laws that), but a few fun presents to celebrate the holiday (is it a real holiday?) can't hurt.
We have plenty of unique Valentine's Day gift ideas for you to surprise your kids (and they hardly involve sugar, which inevitably leads to chocolate for breakfast on V-Day morning). Instead, opt for presents that are sentimental, cute, fun, and crafty, and the good new is, you'll find 'em all here. In fact, there's something for everybody, from V-Day Mad Libs, to a kissing penguin, to a pretty mug featuring nostalgic Disney characters.
By saving time picking out Valentine's gifts for your kids early, you may even squeeze in a few minutes to do something romantic as a couple. And before you ask: Yes, at a certain age, catching up on sleep does count as romantic.
Valentine's Day Gifts For Sons
Valentine's Day Gifts For Daughters
Crafty Valentine's Day Gift Ideas
Valentine's Day Gifts For Toddlers
Valentine's Day Gifts For Older Kids
Valentine's Day Gifts For Fur Kids
Without gift giving holidays, we're not sure the economy would survive. So we'll help you do your part with our gift giving guides for any time of the year. Heck, we may even have a guide for National Bubble Wrap Appreciation Day stuffed in there somewhere. (It's a real holiday. Look it up.)