Patrick Dempsey Confirms He's Returning For 'Enchanted 2'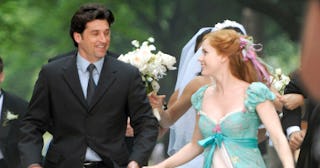 Jason Kempin/Gettty
Patrick Dempsey will be back in Enchanted 2, in case you needed some good news to start your weekend
It's been a big year for Patrick Dempsey. His beloved character on Grey's Anatomy, who was tragically killed off several seasons ago, got to make a big return that had every fan talking. And now, he's just revealed that he's coming back to Disney for its upcoming sequel of the hit movie Enchanted, titled Disenchanted.
Dempsey starred in the first movie alongside Amy Adams, playing the lawyer Robert Philip. Also, as everyone who saw that movie knows, he's a total babe in that role, so there's literally no bad news here. If there were ever a time to sing a happy working song, that time is now.
The Grey's Anatomy star announced the exciting and very welcome casting decision during an appearance on Good Morning America on Thursday.
"I just got this script for the second movie, and then I'm starting to go through and get notes together," Dempsey said. "There's talk that we'll start shooting that in the spring, which is exciting."
That's extra exciting, considering how many movies were delayed or put indefinitely on hold because of concerns over filming during the coronavirus pandemic. We're happy this one is moving forward, because we really don't want to have to wait much longer to see Disenchanted.
In his GMA interview, Dempsey talked a little bit about working alongside Adams in the 2007 original, which blending live action with animation and featured the catchy original music we've all come to expect from Disney movies.
"Amy Adams is so amazing in that film," he said. "It was a fun project to be a part of."
We can only imagine, dancing and singing through the streets of New York City with the eternally perfect Amy Adams — and getting paid for it? Actors really don't know how good they have it.
Disney revealed its plans for an Enchanted sequel in December, during a call with investors. We don't know too much about the upcoming movie, other than that it will stream on Disney+. But Adam Shankman, who came on as the director, told the investors on the call that the sequel is "about Giselle 10 years later going, 'What is happily ever after?'"
A question we've certainly all asked ourselves at some point (especially during the tumultuous last few years). We can't wait for Giselle (and Patrick Dempsey) to provide us with some answers.
This article was originally published on