This Is What People Are Naming Their Dogs In 2018
by Rita Templeton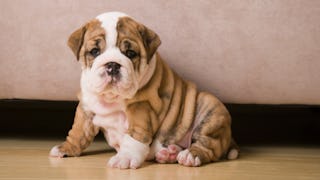 Tanya Constantine/Getty
Who's a good boy?! Apparently, Max, Charlie, or Cooper — if you're judging by the popularity of their names, that is. Because according to new data compiled by Rover.com, a network which connects pet parents with caretakers for their fur babies, that's what people are naming their dogs right now. For female dogs, Bella, Luna, and Lucy top the charts.
According to their press release, Rover.com analyzes one of the biggest dog name databases in the U.S. to get the scoop on what we're naming our canine companions these days, and which trends are having the biggest impact.
Like names for actual human babies, pop culture plays a big part: the data finds that names from the movies are having a moment — such as Pennywise from It (up 500%) and Drax from Guardians of the Galaxy (up 186%).
On the music front, there's Cardi (please say it's Cardi Beagle) with a whopping 1,250% increase, and Gambino is up 190%.
People are also naming their pups after the royal family, with Harry up 133% and Meghan up 129%. Can we just take a moment to envision a dog named Meghan? ADORABLE.
And, of course, viral trends play into the doggie name game, with Fortnite names — Zoey, leading the pack with a 16% increase — and Kiki, like the one from the "In My Feelings Challenge," enjoying an upswing in popularity. You know Kiki will always love you, because dogs.
The data also shows that people are into harder booze this year (wonder why?!), or at least naming their dogs as such; names like Whiskey and Guinness saw a surge, whereas the more delicate Rosé decreased by 44%.
As far as the most popular dog names, many of them are the same ones we see on human baby naming popularity charts.
The top ten names for male dogs are:
1. Max
2. Charlie
3. Cooper
4. Buddy
5. Jack
6. Rocky
7. Duke
8. Bear
9. Oliver
10. Tucker
And the top ten names for female dogs:
1. Bella
2. Luna
3. Lucy
4. Daisy
5. Lola
6. Sadie
7. Molly
8. Bailey
9. Stella
10. Maggie
According to Rover.com's dog naming survey, three out of four pet owners choose their pet's name after meeting them, so they can better gauge what name fits their dog's personality. And 81% of pet owners have multiple nicknames for their dog, a statistic that I find personally accurate — just ask my chocolate Lab, Josie. (Or Jo. Or Jo-Jo. Or Jojie. Or Dodo Bird. Don't judge.)
The study gives an entertaining insight about what inspires us when it comes to naming our furry friends. It's fun to name a pet because the boundaries of social acceptability are bigger; we can choose cool names that we wouldn't necessarily give a kid.
Because we may not be keen to yell "CARDI!" across a playground, but we'll damn well yell it across a dog park.
Looking for naming help, animal or otherwise? The Scary Mommy baby name database has you covered!
This article was originally published on