25 Best Pregnancy Announcement Ideas, Because Sharing Your Baby News Is The Best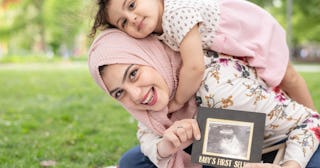 Fly View Productions/Getty Images
You're expecting! Congratulations! What might be even more exciting than announcing your big news is how you choose to announce it. Sharing your pregnancy is a big freaking deal, and it can be just as memorable for you as it is for your nearest and dearest friends and family. Now, you could choose to send a text or FaceTime a call with your inner circle and let them know you're expecting. But let's be real: That's a little boring. It's way more entertaining and satisfying to surprise your partner, parents, and friends with creative and fun ways to announce your pregnancy.
RELATED: Not Sure When To Take a Pregnancy Test? This Calculator Will Help
So if you're looking for ideas — from funny pregnancy announcement ideas to pregnancy announcement ideas for your partner, or pregnancy announcement ideas for your family — look no further. We've got you covered. Check out our ideas below.
Looking for more pregnancy-related content? Check out our pages on baby showers, baby sprinkles, sip and sees, and more.
Pregnancy Announcement Ideas For Husbands & Partners
Surprise your partner by laying out a t-shirt with "Daddy" on it. While he's trying to figure out if that's his new nickname in bed, stroll in wearing your matching "Mommy" shirt. Even better, you can hold a onesie that says "Baby." That should make things clearer.
Create a scavenger hunt with each clue getting your partner closer and closer to discovering your positive pregnancy test.
Bake your partner's favorite cake and, just before you cut it, serve them up the news with a telling "We're having a baby" cake topper.
Surprise your partner with a big box. They'll be so excited that you gifted them a present of… baby stuff! Include stuffies, diapers, and little shoes.
Tell your love he's going to be a dad by putting it on a spoon. When he goes in for a bite of his cereal, he'll see the words, "You're going to be a Daddy!" on it. It will be a morning he will never forget — trust us.
To keep the food trend going, serve him with a plate that says, "We're PREGNANT." Cooking his favorite meal is the best way to ensure he cleans his plate and sees the message.
After a long day of work, give your man some great news as you hand him a beer. Pass him a bottle opener with the announcement engraved in it. After you tell him the news, you both can toast — him with his favorite IPA, you with your favorite non-alcoholic bev.
Spend an evening in and have a puzzle night. When the puzzle complete, it will spell out the birth announcement. Your heart will just melt as you watch him puts the pieces together (literally).
If you have a pup or cat, this is a great time to get your furry child involved. Get a bandana that says, "We're pregnant." Tie it around your pet's neck and wait until your husband notices the message. It might take him until your dog's walk, but whenever he notices will be a fun surprise for the both of you.
Does your husband love Chinese food? Put your happy news inside a fortune cookie. After your meal, when you're both cracking open your cookies, ask him to read his fortune. The specificity of the message may throw him off a bit, but when he realizes it's meant for him, he's going to explode with joy.
Hide your positive pregnancy test in places your partner uses often. For example, stick it in their drawer or briefcase. While playing this game of hide-and-seek, remember that the positive sign on the pregnancy test stick won't last forever (depending on the brand). It usually takes about 15 to 48 hours before the information disappears. So hide it, but don't hide it so well it takes days for him to find it.
For Family & Friends
Frame your first ultrasound picture and give it to your parents with a sweet note: "Now we get to know what it's like to be parents."
Hand your parents a cup of coffee in a mug that reads "Best Grandparents Ever," and then spill your news over some java and cookies.
Send your parents a cute poetic text: "Roses are red, violets are blue, on (INSERT DUE DATE), your grandbaby is due!"
Know the gender of your baby? Snap a photo of your ultrasound pic surrounded by baby girl or baby boy clothes and toys. That'll make it easy to send it out to friends and fam.
Talk about an egg-citing breakfast idea! This one is perfect for both partners and grandparents. In the morning, serve them up some hard-boiled eggs and write on the shells, "We're egg-specting!"
Do a gender swap pic. Have your hubby pose with a big bump while you hide yours with a baggy shirt and come up with a funny line. "We're expecting!" or "What to Expect When He's Expecting" are all winning ideas.
Funny Pregnancy Announcement Ideas
Get creative on social media by posting a photo of an empty wine glass with your ultrasound pic inside. The caption? "Can't fill this glass for another nine months!"
Share a silly pic with you and your partner in the car with a big yellow sign in one of the windows. Its classic message? "Baby on board!"
Are you parents to a fur baby? Arrange a photoshoot with your pet wearing a customized t-shirt that says "Big Brother" or "Big Sister." If you want to up the comedic factor, you can have your pup pose in front of a chalkboard that reads "Only Child" crossed out with "Big Brother" or "Big Sister" above it.
Already a mom of a few little ones? Snap a photo of you and your family having a hilariously chaotic family moment while you look shocked at a pregnancy test. Caption it with "Here we grow again!"
Have a loved one who's a wine snob? Surprise them with a personalized bottle label: "You'll have to drink this one yourself — because we're having a baby!" Or something equally obvious and funny.
Calling all social media junkies! Find a matte frame you can place around your first ultrasound picture. On the frame, write "Baby's First Selfie."
Want to go for something sweet and romantic? Snap a close-up pic of you and your partner clasping hands while holding onto a pair of baby shoes. To really drive the hint home, add a cute phrase. Suggestion: "And baby makes three!"
Baby Announcement Quotes For Instagram
These days, mamas take to Instagram or other forms of social media to announce their pregnancy. But searching for the perfect caption can be hard, so we've gathered a bunch to help make your pregnancy post perfect.
"The best is yet to come… (due date)."
"We can't wait to meet our new addition in (due date)."
"You + me = three."
"And baby makes three."
"First came love, then came you."
"An adventure is about to begin."
"Even miracles take a little time. #babyontheway"
"Being pregnant means every day is another day closer to meeting the love of my life."
"Welcoming our little one in (due date)."
This article was originally published on