45 Aesthetic Girl Names That'll Speak To Your Artistic Sensibilities
Looking for something pretty and creative? Look no further.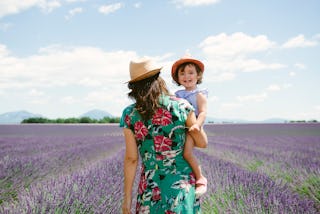 Westend61/Westend61/Getty Images
Your little girl is here, and now you need to decide what to name her. If you spend any time on TikTok or other social media platforms, you've probably noticed that the word "aesthetic" is having a moment. By definition, aesthetic means "a guiding principle in matters of artistic beauty and taste; artistic sensibility." In other words, and especially on social media, it emphasizes all things ethereal, artsy, beautiful, unique, and creative. It's no wonder that aesthetic girl names are also all the rage in baby naming trends.
But what does an "aesthetic" girl name really mean? Basically, it's whatever the word means for you. It can be something as elegant and timeless as names like Celeste or Ivy or as bohemian and artsy as India or Primrose. Maybe it's something rooted in the beauty of nature, like Oceane or Sage. Finding an aesthetic girl name can be a fun experience for expectant parents once you home in on which aesthetic fits your baby — you might even consider scrolling through your Instagram or Pinterest account to get a sense of what aesthetic speaks the most to you.
When you're ready, find an aesthetic girl name that aligns with your artistic sensibilities in the list below.
Your daughter will bring beauty, creativity, and depth to your life. So, giving her an aesthetic name that encapsulates all those things just makes sense.
This article was originally published on