30+ Spellbinding Magic Baby Names For Your Little Bundle Of Wonder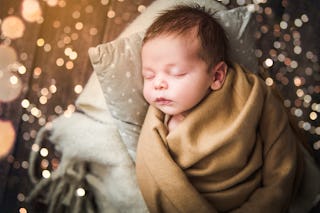 Pavlina Popovska/E+/Getty Images
Is there anything more magical than creating a human? Who knows. Maybe the exact night you "started the process" wasn't particularly earth-shattering. But when you spend the next 40 weeks conjuring cells to form a blob that turns into a baby, well, that's pretty frickin' magical. It might be the universe's best magic trick. Let's see David Copperfield, David Blaine, or any other famous magician summon life out of thin air. Amirite?! Of all the alchemy in the universe, creating a baby might just be the most powerful spell — so, magic baby names feel especially fitting.
It's a big responsibility to come up with the perfect thing to call your little one. You want to choose something with meaning — something that might imbue your baby with a trait or quality that will help them make their way through this great big world. And if our collective obsession with Harry Potter has taught us anything, it's that magic is all around us. What better way to nod to that than with a magical baby name? Maybe it'll give your kid a mystical edge in life.
The following bold suggestions are pretty uncommon but absolutely enchanting. With that said, keep reading if you want to give your baby a name that feels like a special incantation.
This article was originally published on