70 Bucolic Cottagecore Names With Lovely Vintage Appeal
Pour a cup of dandelion tea and prepare for pastoral charm.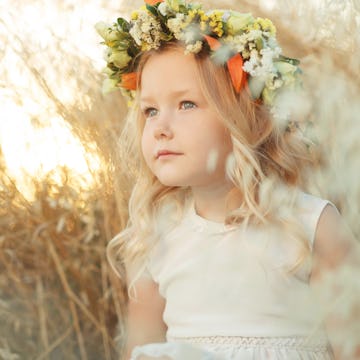 Shutterstock
Do you dream of an idyllic cottage in the countryside? Is your Pinterest board filled with images of wildflowers, rustic fields, and homesteads? Is Practical Magic your favorite movie? If so, chances are you're hardcore into cottagecore. Cottagecore is a trending lifestyle aesthetic that romanticizes the rural life and celebrates all things your grandmother loves, like pottery, baking, and arts and crafts. Another source of inspiration for the aesthetic is the existence of woodsy magical beings, like witches and fairies. It emphasizes a simple life and the wonders of the great outdoors, which might explain why it became hugely popular during the pandemic. (It wasn't just sourdough keeping people busy.) So, don't be surprised when you see a slew of cottagecore names like River and Daisy running around the local playground in a few years.
If you're a cottagecore fan, or just love nature and all things vintage, you might consider a cottagecore baby name for your little one. Go ahead and peruse your Pinterest and vision boards to get into a cottagecore frame of mind. Then put on a pot of dandelion tea, set your dog-eared copy of The Secret Garden aside for a bit, and return to this charming list of names to help inspire you.
This article was originally published on