20+ Of The Best PS4 Games For Couples To Play Together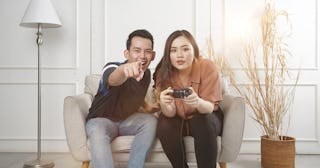 Afif Kusuma/ Unsplash
Looking for a "Netflix and chill" replacement now that you've officially coupled? If you and your significant other are at all competitive, you might not need look any further than that same PS4 console you've used for binge-watching "Friends." Put down the popcorn, pick up the Play Station 4 controller and get ready to smack talk your way through these awesome games. A couple who plays together, stays together.
1. Rocket League
The perfectly fun game for the perfect couple. Pro Tip: Resist the urge to compare your partner's video game driving to their real life driving.
2. A Way Out
Be forewarned that playing this game together will be just as tricky as tackling one of those escape rooms. You have to work together and you might quickly discover your love's faults.
3. Mortal Kombat 11
Almost as good as hitting the arcade together. Almost.
4. Borderlands
Any of the four shooty bang-bang versions of Borderlands offers loads of looter shooter fun. Game play is forgiving enough if one of you isn't an experience gamer, but still popular among all ranges of experience level. And, yes, you can customize your character.
5. Minecraft
Is there no end to this game's staying power? Whether you're dating a world-builder or a zombie-killer, Minecraft offers fun for even the most opposite of attractive opposites.
6. Keep Talking and Nobody Explodes
If you're using VR with your PS4 yet, you've got to try this game. Think you two are great communicators? Time to put that theory to the test. The more you talk and the better your partner can listen, the longer you'll last. Otherwise: Boom!
7. Lovers in a Dangerous Spacetime
Work together to travel through a retro-tastic galaxy and rescue space bunnies.
8. WipEout Omega Collection
It's a racing game. What more needs to be said?
9. Hidden Agenda
If you both spend your commutes listening to True Crime podcasts, try your hand at Hidden Agenda. You can choose to work together or you can work against each other. It's the ultimate couch co-op gaming experience.
10. Rayman Legends
What better way to unwind after a long day than in the colorful world of Rayman, Globlox and the Teensies? Couples can work together to take down the five Dark Teensies and restore order.
Related: 25+ First Date Tips That Will Help You Land A Second
11. Sonic Mania
Do you both enjoy waxing nostalgic about the good ol' days of beating your siblings at various Nintendo games? Catch up with your old pal Sonic and see who's the champ in your relationship.
12. Little Big Planet 3
There's nothing mature about Little Big Planet. If you have kids, you've probably played it with them. That doesn't mean you can't have fun playing together as a couple, though.
13. ARK: Survival Evolved
Advice: Find you a man who knows how to strap laser canons to a brontosaurus. He's clearly resourceful and has a great sense of humor.
14. Gang Beasts
If you're a couple that's both silly but also maybe a little demented, Gang Beasts will offer hours of ridiculous, violent fun. Think: The Teletubbies try MMA.
15. Don't Starve Together
Another great option in the survival genre, DST takes itself a little less seriously. Pair up to forage for food, find shelf and fight off any threats.
16. Call of Duty: Infinite Warfare
The thing about CoD is that it's pretty versatile. All of the Call of Duty iterations offer split-screen options. The wacky '80s amusement park teeming with zombies, though, is the absolute most fun. Can you find all the glorious Easter eggs from your childhood?
17. Gran Turismo Sport
If you can handle the smack talk, go for it. Either way, enjoy taking turns lapping each other.
18. Plants vs. Zombies: Garden Warfare
No, seriously. For those couples that would describe themselves as "pacifists" but aren't into racing, PvZ is an excellent option. You can work together or against each other for some more friendly, lighthearted violence… if a war between plants and zombies can really even be considered violent.
19. TowerFall: Ascension
Got some couple friends coming over? With a four-player battle royale version, TowerFall is a ton of fun for double-date night.
20. Dance Dance Revolution
Just how committed are you? If you're ready to take things to the next level and risk truly embarrassing yourselves in front of each other, try DDR. Any version will do.
21. Rock Band 4
Admittedly, Garage Band is a big investment. But, aren't relationships? With more then a thousand songs ready for you to rock to, it seems like a fair price to pay. Can you two really say you've lived if you haven't bopped along together to "Uptown Funk?"
Related: 50+ Rainy Day Date Ideas That Will Leave You Feeling Warm And Cozy Inside
This article was originally published on