10 Precious Puppy Coloring Pages For Kiddos Who Want A Dog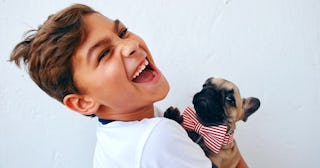 Alicia Jones/Unsplash
No matter how old we are, there is one thing that will always unite us: A love for puppies (and kittens). You may not be ready for a pet or your favorite animal might be something wilder, but everyone loves a sweet-looking "Good Boy." Even those of us cursed with allergies jump at the chance to pet cute doggos… even if we inevitably regret it. Of course, many of us also feel a sense of unity over coloring. Whether we're three or 103, a fresh, white coloring page just makes us oh-so-happy. It's relaxing to try to stay inside those lines and fun taking your time to carefully select a color. So, we found the next best thing to petting all the dogs: We've collected a ton of puppy coloring pages. Now you can dream about your future shelter pup while coloring with your kiddos. What could be better?
Puppy Coloring Pages for Kids
Looking for even more coloring pages with other themes? Mama, we got you! From princesses to unicorns to Pokémon and everything in between, we guarantee you can find some pretty fun options.
1. Puppy in Garden
This coloring page has a built-in bonus of containing all kinds of fun colorable objects. Once your kiddo gets done filling in the puppy, they can work on the mandala-style garden or the pup's collection of garden items (how cute is that snail?!).
2. Spaniel
Fair warning: If you don't already have a spaniel, your little artist is definitely going to ask when you can add one to the family once they get their crayons on this cutie.
3. Pug
It's just a fact of life that pugs are one of the most adorable things to ever walk the face of the planet — and this coloring page proves as much. Just look at that super-squishable face! Those wrinkles have wrinkles.
4. Corgi
The only thing that could make this corgi coloring page any better is if you could flip it over and color the obviously too-cute-for-words corgi booty on the backside.
5. Dalmatian
You might be thinking, Wait, aren't dalmatians black-and-white? And in real life, sure, that's accurate. But this is a coloring page, where you get the chance to be your most creative self. If you ask us, magenta would make for one excellent dalmatian.
6. French Bulldog
Filbert? Pierre? Mr. Freckles? Half the fun of this French bulldog page is coloring it — the other half is asking your kid what they'd name the Frenchie if it was part of your fam.
7. Staffordshire Terrier
This little guy sure looks serious, doesn't he? He has one of those distinguished faces that you wish you could plant big ol' smooches all over. That can't just be our reaction, right?
8. Fluffy Puppy
You might see a golden retriever when you look at this fella. Your kid might see Clifford the Big Red Dog as a puppy. Hey, why not print more than one copy and surprise each other with your visions?
9. Sleepy Puppy
A bit more detail makes this puppy coloring page perfect for tweens — or the resident artist in your household. Or, since the doggo is snoozing, you could use this page to help convince your toddler to take a nap.
10. Puppy Collar
This coloring page would be a super-cool way to announce to your kiddo that your family is getting a puppy. Have them color in the collar, and then ask them what name they'd put on it if they had their own puppy. Once they have a name picked out, spill the big puppy news!
This article was originally published on