12 Cute Tote Bags To Lug All Your Sh*t In This Summer
Sunglasses, sunscreen, beach towel, keys — throw it all in there!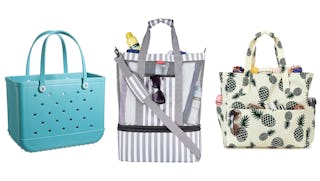 Amazon
We may receive a portion of sales if you purchase a product through a link in this article.
It's officially summertime, and while the days may be getting longer, our tote bags are sure as hell getting heavier. From comfy beach towels and sun protectant supplies to swim diapers and beach toys for the kids, your go-to tote probably resembles something like a black hole during the summer months. Good luck trying to locate a loose chapstick or set of keys!
What you need is a brand-new tote bag that's cute yet affordable yet super versatile to hold all your family's sh*t this summer. It needs to have both interior and exterior pockets, a durable handle, and room for your beach read (duh). Bonus points if the tote is also water-resistant and made out of a fabric or material that will help keep the sand where it belongs: the beach.
Tote bags come in all shapes and sizes. They can be waterproof or bags equipped with a mini cooler or a special place to store wet clothes. Totes can also double as beach bags or pool bags, or a catch-all for your everyday items. Essentially, a tote bag can encompass a whole lot of things, which is why we rounded up a robust collection of tote bags that are both chic and functional. Find your trusty new best friend for the summer below.
A Classic Tote Bag with a Bonus: A Convenient Wet Pocket
There is nothing this huge waterproof tote can't hold. It comes with four external pockets (great for sunglasses, sunscreen, water bottles, flip flops, a book/magazine, etc.) and two interior pockets for valuables like your phone and wallet. But get this: The bag also has a special compartment for wet items like used towels, bathing suits, and toiletries.
The Waterproof Washable Tote Moms Are Obsessed With
Invented by moms for moms, the BOGG BAG comes equipped with a non-slip bottom so that no matter how many times your kid goes ravaging for toys or snacks (or you toss it across the beach blanket), the bag won't tip over. It also features soft shoulder straps and two clear insert pouches to keep your smaller items dry and protected. Shop from over 40 colors!
A Mesh Tote Bag With 11,000+ Positive Reviews
This XL tote bag is big enough to haul all your family's gear. (Not kidding — the company guarantees the bag can support up to 160 pounds!) Inside the main storage compartment, you can comfortably fit four to six towels and other water activity essentials. There are eight oversized mesh pockets on the outside of the bag for stowing smaller items. Additionally, you get four ring holders to link keys, hats, and water bottles for fast and easy access.
Athleta's Alicia Keys Collab Woven Beach Bag
If you're on the hunt for a chic new tote bag to use this summer, act fast because Athleta partnered with Grammy winner Alicia Keys on this limited-edition, handmade woven beach bag, and it's to die for. The fabric is made from recycled polyester (aka it's durable AF) and is lined with a lime green, removable interior slip to 1) keep things from falling out and 2) trap dirt and spills.
A Cheeky Waterproof and Sandproof Beach Tote
"Whatup beaches?!" That's our motto heading into summer this year à la this super cute waterproof and sandproof tote from Lamyba. It has tons of room, and it's tricked out with a vegan leather handle and two snap button closures that will literally hold all your sh*t in.
A Beach Bag with a 12-Can Cooler Compartment
Beach days with the kids just got a heck of a lot easier, thanks to the insulated cooler pouch located at the bottom of this tote bag. It's big enough to hold 12 soda cans (or canned cocktails if you're chilling with the girlies), and the zipper goes all the way around so you can detach the cooler from the top half of the bag. The extra-long strap allows you to wear the bag over the shoulder or as a crossbody.
This Funky & Fun Crochet Knit Tote Bag
If you're someone who chooses beauty over function, this flower-power crochet shoulder bag is right up your alley. And OK, so it can't necessarily hold allll your crap, but it's a stylish tote for running errands or embarking on a solo pool day.
The Sweetest Rainbow Stripe Straw Tote
Available at the Gap, this adorable woven paper straw tote bag has a neutral undertone with a rainbow stripe pattern, meaning it'll go with any outfit in your closet. Customers say the bag can hold two large beach towels and collapse to fit in luggage.
Canvas Tote Bag With Beach Towel Set & Cooler Bag
Listen up, this bag is super-unique, and we'll tell you why: It has an open top — it doesn't zipper or snap shut. And unlike other open-top totes, the sides of the bag don't come together with the straps. So, what's the bag good for if your stuff can casually fall out? Beach towels, food, drinks, sunblock, and other mid-size items that you can pack snuggly in place. There's also a removable insulated cooler bag to keep drinks and foods cold.
Large Waterproof Tote With Durable (& Cute) Rope Handles
With this sandproof and waterproof tote bag, you get three pockets (one oversized inner pocket with a zipper and two extra large pockets) and a huge bucket of space to throw all your belongings in. And not only are the rope handles cute to stare at, but they offer a more durable grip. Customers praise the tote for its durability, sturdiness, water resistance, and lightweight fabric.
A Stylish Straw-Paper Crochet Tote
It may not hold all your sh*t, but you'll sure look like a fashionista sporting this straw tote bag with double crochet handles! My eyes are set on the sunfish color, but the flower trail and blue overall colors scream summer just as well.
A Mesh Tote Bag Perfect For Beach Toys
Give mommy's shoulders a break with an Afomida Mesh Kids Tote Bag. It has a drawstring closure that's easy for kids to operate and more than enough space for a towel and toys. Plus, thanks to its mesh design, you won't track tons of sand home.