The Girl Scouts Are Discontinuing A Cult Favorite For Cookie Eaters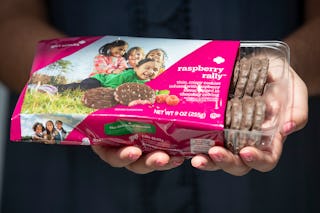 Orlando Sentinel/Tribune News Service/Getty Images
Just one year after its debut, the Girl Scouts of the USA are discontinuing their most recent cookie addition to the Girl Scout cookie family.
Raspberry Rally will not be available for purchase this upcoming cookie-sales season, which runs January to April 2024, Girl Scouts of the USA has announced.
The Raspberry Rally cookie was introduced in August of last year as a "sister" cookie to the beloved Thin Mints.
Instead of crisp mint-flavored cookie encased in chocolate, the Raspberry Rally had a bright pink berry-flavored filling dipped in the same chocolate coating as the Thin Mint.
The raspberry-flavored cookie — which became available to the public in January 2023 — was only able to be purchased via online sales. The Girl Scouts organization had hopes that the Raspberry Rally would help focus on online sales, allowing Girl Scouts to learn new entrepreneurial skills and build their ecommerce business.
After the cookie was offered online, demand created an online frenzy with some Girl Scout chapters selling out of the $5 boxes in less than a day. Resellers were selling Rallies on eBay for as much as $30 per box.
"While Raspberry Rally was extremely popular last year, we are taking a pause this season to prioritize supplying our classic varieties," the Girl Scouts of the USA said in a statement to CNN.
With high demand for the elusive cookie, resellers were ruining the fun for everyone. In order to combat resellers gaining profit, they are discontinuing the cookie.
Resellers gaining profit totally defeats the purpose of their long-running cookie selling tradition — supporting the Girl Scouts of the USA.
"When cookies are purchased through a third-party seller, Girl Scout troops are deprived of proceeds that fund critical programming throughout the year," Girl Scouts told CNN.
eBay never took down any of the listings, so resellers continued to profit off of Raspberry Rally cookies without much trouble. The company never took down any of the listings because the sales didn't violate any of eBay's policies, according to CNN.
On top of the news that one of the fastest favorites will not be sold in 2024, there's one more seriously blow to Girl Scout cookie lovers — they're going up in price.
Cookie prices will range from $5 to $7 a box in 2024 depending on where you live. Each of the 111 Girl Scout councils set their own prices. Some "speciality" cookies like S'mores and Toffee-Tastic were already $6, but now classics like Trefoils are going up in price as well.
In 2022, Girl Scouts of Northern California began selling all cookie varieties for $6 a box, the classics and specialty cookies alike, saying the price hike was necessary because of higher costs and an unprecedented decline in girl participation in the cookie program, which was down more than 50%.
Girl Scouts can raise their prices and take away certain flavors. I am still going to buy five boxes of Thin Mints and eat them in a day. Thank you very much!
Check out the Girl Scout's official website to see when sales for the remaining cooking flavors are happening your area.