Prime Day Deals Like This Will Trick You Into Thinking You Can Afford Another Baby
by Jessica Booth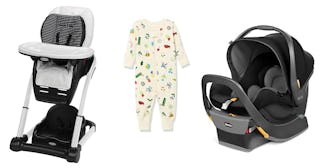 Amazon
Raising a full family is so damn expensive. Newborns literally do three things: Act cute, make you change diapers, and suck up your entire savings account. In 2021, Amazon Prime Day (June 21-22) is offering new parents the opportunity to spend on more, for less. We're digging into the best baby deals that Amazon has to offer, so you can save on anything from basics (hi, diapers!) to organic onesies.
RELATED: 15 Of The Best Bottle Warmers – Not Too Hot, Not Too Cold, Just Right For BB
Still Prime Day shopping? We've also rounded up the best deals in kitchen, tech, toys, fashion, beauty, and the best deals overall!
Best Prime Day Baby Deals:
Bookmark this page so you don't miss out on our favorite Amazon Prime Day deals of 2021. We'll be live reporting on the biggest price cuts. Plus, sign up for Amazon Prime so you can take advantage of the best Amazon Prime Day deals of 2021!