Baby Bunting Bags Perfect For Chilly Weather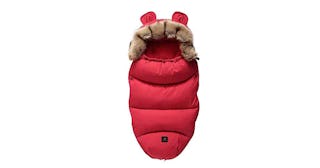 Amazon
Baby bunting bags are what every parent needs during the cold months of the year so you can easily tuck the baby in and stick them in the stroller. Now, you can easily go out to run errands or for some exercise with your little one without worrying whether or not they're warm enough. The best bunting bags are fleece-lined (which most of our list has!), so they're big on cozy comfort. Plus, these make great baby shower gifts because every parent can easily use a bunting bag. Even if they aren't frequently using a stroller (we won't judge; we don't know your life), they can easily use a bunting bag to wrap up baby at home.
What are baby bunting bags used for?
Denise Stern is the founder and CEO of Let Mommy Sleep, a special team of Registered Nurses and Newborn Care Providers (also known as Postpartum Doulas) who provide overnight care for new families. She says that baby bunting bags are a safe and easy way to keep your little one comfortable and undisturbed (yay for undisturbed!).
"Baby bunting bags are the easiest way to keep baby warm and comfortable," Stern says. "Because nothing goes over baby's head, and arms and legs don't have to be pulled through sleeves or pants, a bunting is an easy way to keep baby cozy, safe, and undisturbed."
What to look for (and avoid) when shopping for baby bunting bags
When shopping for bunting bags for babies, be sure to choose the correct size for your little one. According to Stern, a bunting bag that is too large can be hazardous to the baby's breathing or make it difficult to hold them securely. And one huge thing to avoid? Using bunting bags in car seats! This is a huge no-no, Mama.
"Parents should avoid using bunting bags in a car seat when traveling by car. This goes for car seat covers that act as wraps, going under baby's back or under the straps," Stern explains. "The extra room between the bag and car seat straps may seem minimal, but that small space creates vulnerability during a crash. A better option is to dress baby in seasonally appropriate clothing and then use a blanket or cover over the car seat after the straps are buckled being sure not to cover baby's face."
***
Whether you're an expecting parent shopping for yourself, or you're looking for someone you know, we've rounded up our top picks of the best bunting bags for babies! We've got to admit, they're all pretty adorable, so get that wallet ready. Shop some of our picks ahead!
Best Baby Bunting Bags
Best Stroller Sleeping Bags
This article was originally published on