Best Baby Cribs For A Peaceful Night's Sleep (Or At Least A Safe One!)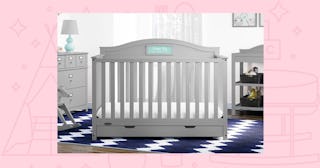 From the minute we hear the words, "you're pregnant" visions of a beautiful baby nursery swirl in our brains (that and $ dollar signs). It's easy to envision the calming tones and cutesy baby animals we will put on the wall, but what about the actual baby furniture? A baby crib is arguably the most important piece of furniture we will buy for the nursery (or pray we get from our baby registry). After all our LO will spend upwards of two years in it, if not more. Everyone has a mind-numbing amount of well-meaning advice on what to get and what cribs were like back in their day. (If we have to hear one more time that babies slept on their tummies and everyone used baby crib bumpers…)
RELATED: 100+ Good Night Quotes That Will Have You Off To Dreamland In No Time
Regardless of what crib we purchase for our bundle of joy, we want it to be made of toxin-free materials (mind-blowing fact— not all of them are, even the stylish, trendy ones!) and house slats that are no more than 6 centimeters or 2 ⅜ inches apart. To check a crib's safety standards, see if it's endorsed by JPMA (Juvenile Products Manufacturers Association) or meets the American Society for Testing and Materials (ASTM) standards. Also be sure to look for a crib with adjustable mattress heights. Ideally, a safe crib should include 3 to 5 height positions, which allows the mattress to be dropped as BB gets stronger and taller (aka thinks about climbing out!).
Aside from these must-have safety features, the functionality is up to you. We know baby brain is a real thing (car keys in the fridge, anyone?) but try to think through the fog and consider if it's worth buying a convertible crib. Most cribs these days are designed to be "forever beds" taking our LOs from crib to prom as they convert to full-size beds. (Seriously that's a scary thought! You're still planning for your forever home, now a forever bed?) A baby crib with its own changing table or one with underbed storage might be just what you need at the moment.
We've rounded up the best baby cribs for you— from the trendy crib you've seen on IG to mini and budget-friendly choices to convertible 5-in-1 options. Don't forget, you buy it, you build it, (unless you splurge for a fancy crib that comes with white glove delivery and install— tempting, we know) but think of it as an exercise in communication with your partner. Drop in a non toxic baby crib mattress, soft fitted baby sheets and you're ready for BB's best night's sleep (I mean, we're hoping…)!
Best Convertible Baby Cribs
Best Baby Cribs With Changing Table
Best Budget-Friendly Baby Cribs
Looking for must have baby gear before BB arrives? Check out all of our mom approved suggestions for everything baby!
This article was originally published on