30 Crazy Good Drugstore Beauty Product That Have An Undeniable Cult Following
by Amanda Davis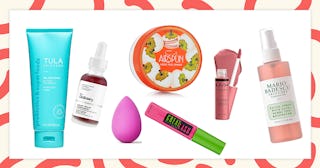 Ulta / Amazon
Everyone has at least one drugstore beauty or skincare product that will always be a part of their routine. It's the one super cheap thing that works wonders and you won't ever stop recommending it to others. The products that everyone loves, that everyone has tried, and that have been around for (what seems like) forever are the drugstore cult favorites.
No matter how much teeth-sucking and eye-rolling follows after you mention drugstore beauty and skincare products, people have got to admit that brands have really stepped up their game the last few years. Drugstore brands will always be the reliable go-to for millions because in addition to being affordable (reason #1) and right around the corner (reason #2), so many drugstore brands are becoming vegan, cruelty-free, and incorporating natural and organic ingredients. Finally, we don't have to pay $50 for a 2-ounce bottle of clean moisturizer! Drugstore brands like Maybelline, Neutrogena, and Garnier have had years to build their following, and their products have evolved while still being our one and only go-to. Today's new guys such as The Ordinary and VERSED give us the luxurious feel on a budget as well, gaining their own cult following quickly and almost as huge as the OGs.
Tamerri Ater is the Senior Product Development Director for VERSED Skin, one of the cleanest drugstore skincare brands around today. "There's a misconception that drugstore skincare products are inferior to the prestige market which is not necessarily true. In fact, many drugstore legacy brands invest big dollars in research and development to create formulas that give their customers good results," she says. "More expensive does not always equal better. What matters most is the formula itself, not the fancy packaging – although that can add to the overall experience."
Because they might be out of stock at the Walgreens up the street, check out the drugstore beauty and skincare cult favorites that deserve a spot on your top shelf! Why spend a fortune when you can get the same (if not better) results for half the price?
Cult-Favorite Drugstore Beauty Products
RELATED: 11 Drugstore Bronzers That Will Brighten Your Dull Ass Winter Skin
RELATED: These Under-$20 Lip Liners Will Finally Convince You to Use One
Cult-Favorite Drugstore Skincare
RELATED: Girl, Wash Your Face — With Some Of The Best Drugstore Face Washes At Only $6+
RELATED: 8 Crazy Good Drugstore Acne Treatments To Zap Away Zits
RELATED: The Best Drugstore Body Lotions To Moisturize Your Dry Skin
Cult-Favorite Drugstore Hair Products