10 Best Gifts & Toys For 5-Year Olds According To Experts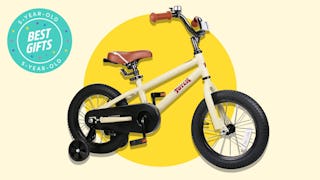 If you have a 5-year-old, a) God bless you and b) it might be time to start thinking about kindergarten learning. This means that when it comes to birthday gifts (or any gifts) and toys for 5 year olds, start thinking stem toys, toddler puzzles and all the things that get them learning (while having fun). As your little one officially starts their school education — woohoo, more #MeTime for you, mama! — you might notice more pressure on the shoulds.
"There is often a new emphasis on what children 'should' be able to know and do by the time they enter kindergarten," says Lisa B. Fiore, Professor and Co-chair, Education & Director of the Child Homelessness Initiative at Lesley University. Now that there's more emphasis on academic progress, Fiore explains to Scary Mommy, it's important to support your child's personal interests.
"It's important for caregivers to recognize that their own expectations may not sync with a child's natural rhythms or interests," Fiore explains. "It's therefore critical to support children's interests, to ask questions of experts and educators if there are concerns about a child's development, and continue to allow children to develop their own passions and explore their evolving skills and interests."
You know what helps with that, mamas? Toys! No, seriously, toys can be totally educational and really help your kid hone in on their skills, likes, and dislikes.
For more gift inspo, check out our toys for 1 year olds, 2 year olds, 3 year olds, 4 year olds, 6 year olds, 7 year olds, 8 year olds, 9 year olds, 10 year olds, 11 year olds and 12 year olds.
At 5 years old, typically children are writing, reading, sounding out their words, and beginning to develop more elaborate scenarios for play with other children," adds Pamela Morris, MSEd, Early Childhood Director of the Early Childhood Learning Center at the East Valley JCC in Chandler, AZ.
With all these expert recommendations in mind, these are the top toys and educational gifts for the 5-year-old in your life.
Books for Toddlers
According to Morris, rhyming books are even better at this age "especially with funny words thrown in." Morris says that books with repetitive refrains (i.e. Brown Bear, Brown Bear) is a another great option "because kids at this age are starting to read and they can read these books easily which helps them start to recognize words in other books and it is an upward spiral from there."
Fiore adds, "Books that include adventure and sometimes mishaps are often big hits. Children enjoy predicting what might happen, and they like to catch the author or adult in something that's 'wrong' based on their evolving understanding of the world."
Even children can enjoy non-fiction books about heroes that they can identify with. (It's not just us adults!)
Musical Instrument Toys for Toddlers
"Children's joy in making music and listening to music is evident from birth," says Fiore. "Children's dexterity improves over time and having the opportunity to play instruments encourages their exploration. Some children enjoy 'jam band' activity, where they can play together and come up with their own 'hits' and favorites." Morris says if your child is musically inclined and you are considering lessons, "then I would look into the Recorder, simple guitar or simple piano if your child is truly interested."
STEM Toys for Toddlers
Speaking of STEM toys, anything that challenges your child's brain is a good go-to. According to Fiore, "It's never too early to give a child a toy or material that encourages exploration of the natural world and how things work and fit together to create something new."
Fiore adds, "Children might love being given an old/broken radio or telephone and a screwdriver so that they can explore what the inside looks like. If you're thinking more about robotics or maker-space materials, then I think there are absolutely some items that children can play with to get a sense of 'bots' and how pieces fit together to create something new."
Morris agrees. "Using technology as a tool instead of a toy is also very helpful to start at this age — using the tablets or phones with parent participation to look up their favorite song on YouTube or read a story on the tablet — these are all great options!"
Interactive Group Games for Toddlers
"Interactive games with friends are terrific, and it's important to both allow children to select their game-playing friends as well as to encourage children to interact with people that they don't know as well yet," says Fiore. "Children may like to create new rules for familiar games, and to stretch the rules to see how they can create new interpretations of games. Depending on the children in a classroom, family backgrounds and cultural traditions can infuse new play opportunities into the setting, too."
Bikes for Toddlers
"Bikes of different kinds are always a favorite," says Fiore. "Some children may move from three- to two-wheel bikes at this age, depending on their opportunities for practice and their own physical development. It can be helpful to have some bikes without pedals so that children can practice their balance by 'walking' the bikes as opposed to riding them."
Tactile Arts & Crafts for Toddlers
"All opportunities for art and creative activity are so important, particularly with open-ended expression," says Fiore. "Different materials, such as natural materials found in the neighborhood as well as recyclables, are wonderful additions to the materials." According to Fiore, clay, in particular, is a really important material. "It gets children to use their hands and fingers, it's 'forgiving' in the sense that a little water can refresh or change something that someone wishes to change about the clay (for a limited time). It gives children the opportunity to pound, poke, pinch, cut, tear, roll, etc. There is something really special about clay — the scent, feel, and transformative experience of waiting for clay to dry (or fire if using a kiln)." Other favorite materials for kids to experiment with, according to Morris, include markers, colored pencils, stickers, and foam.
Now that your 5-year-old is all set, check out more mom curated toys for kids of all ages.
This article was originally published on