22 Best Toys & Gifts For 6-Year Old Boys & Girls According To Experts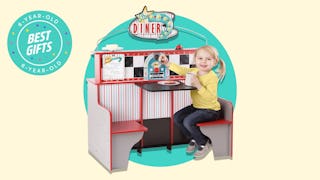 Your child is six years old! Which means he or she is most likely starting the first grade. This is an exciting age when it comes to blending learning with play but it can be hard to figure out the best birthday gifts or anytime gifts for 6 year old boys and girls. They are fun now, and getting smart (ie sassy), so fun puzzles, science kits or flying toys will keep it educational and imaginative.
For more gift inspo, check out our toys for 1 year olds, 2 year olds, 3 year olds, 4 year olds, 5 year olds, 7 year olds, 8 year olds, 9 year olds, 10 year olds, 11 year olds and 12 year olds.
At this age, according to Marilyn Chapman, Professor Emerita, and former Director of the Institute for Early Childhood Education and Research at the University of British Columbia, both boys and girls benefit from a repertoire of different kinds of play that foster different aspects of their development. "They especially benefit from physical development and well-being, intellectual (cognitive) development, and social-emotional development," she says. When it comes to selecting the best toys for your kiddo, Chapman recommends to "think 'both-and' instead of 'either-or'" when considering those aspects. For example, maybe you choose an outdoor toy that not only gets your young one moving their body but which also includes a mental stimulation component too.
Adds Dr. Rachelle Smith, an associate professor at Husson University who specializes in psychology and childhood development: "The typical six-year-old is mastering perspective-taking (e.g., that others may have different opinions or beliefs) and starting to make gains in understanding logic." Smith says prior to age six, most children struggle to understand the perspectives of others, which makes them struggle with losing a game, for example, since they are not thinking about how the other person feels, and have a hard time following logic since they are more driven by intuition. While Smith says there do not tend to be gender differences in these skills at this age "there are definitely individual differences. Since different kids find different things interesting, one would need to know the child to make a good toy selection." However, says Smith, "with their increases in cognitive development and understanding (and memory abilities) six-year-olds tend to like information about the world and learning about topics that interest them. They can soak up information about the things they like very quickly and become little experts."
If you're curious about gender differences when selecting toys, Chapman recommends to parents they read the book "Pink Brain, Blue Brain" by Lise Eliot. "Her research shows that small differences in the brains of boys (as a group) and girls (as a group) turn into bigger differences because we treat them differently, including encouraging different kinds of play." This is why the toys selected below, along with input from Chapman and Smith, are best suited for both boys and girls.
With all these recommendations in mind, Scary Mommy has curated the best gifts and toys for the 6-year-old in your life.
Outdoor Toys for 6 Year Olds Kids
"Gross motor skills development (which includes the large muscles, such as arms and legs) are essential for physical development and well-being," says Chapman. "So toys and activities that encourage hopping, skipping, throwing and catching, climbing, running, jumping, and playing with balls, bats, hockey sticks, hoops, and ropes are all worthwhile for girls and boys."
STEM and Educational Toys for 6 Year Olds
"Exploration and inquiry-based play builds on children's innate curiosity and sense of wonder," says Chapman. "Through inquiry, children actively pose questions, investigate, solve problems, and draw conclusions about the world around them. Any materials or toys that encourage exploration, inquiry, and discovery are worthwhile investments."
Adds Smith: "Six-year-olds can start to understand why and how an experiment works and start to devise their own experiments or start collecting and sorting specimens in ways that five-year-olds typically can not. These toys are highly supportive of brain development and lay the foundation for future critical thinking skills. These are a great way to introduce cause/effect, learn about testing predictions, and are usually engaging for children (and adults)."
Imaginative Toys for 6 Year Olds
"Social, make-believe play contributes to the development of cooperation, empathy, impulse control, reduced aggression, and better overall emotional and social health," Chapman says. "It also facilitates pro-social, cooperative behavior, and fosters friendships." She adds that an activity such as 'playing house,' which requires dressing up in play clothes and shoes with different types of fasteners and using play cooking utensils and cutlery, is also a good activity to help develop fine motor skills.
Says Smith: "The ability to create and explore perspective is engaging at this age. Children can create alternate realities, write plays, take on roles, work through stressors, and real-life experiences through role-playing and pretend play. Many children can spend hours working on scripts and rehearsals and just need an attentive audience at the end."
Dolls, Action Figures, and Puppets for 6 Year Old Kids
"Dramatic play, with its system of roles and rules — who does what and what is allowed helps children learn and practice their developing self-regulation. Children are highly motivated to stick to the roles and rules that are part of the play," says Chapman. This could include playing with dolls, action figures, puppets, or plush toys. As for dolls, Chapman says to "choose ones that encourage dramatic play (e.g., baby dolls, figures that can 'live' in dollhouses). If possible, find dolls that represent the diversity of humanity."
Funny Toys and Pranks for 6 Year Old Kids
"At around age 6, children are starting to understand pragmatics. Thus, they are just starting to understand implications, puns, dual meanings, sarcasm, etc.," says Smith. "With these emerging abilities, they become enamored by knock-knock jokes, pranks, and silliness because they are just able to understand why it is funny and how to genuinely trick others." She adds: "I have no idea why kids like gross things. It's a phase."
Building Toys for 6 Year Old Kids
"Fine motor skills (small muscle development, especially in hands and fingers) develop as children engage in manipulating small objects and toys, such as building, stacking, and arranging blocks," Chapman says. According to Chapman, hands-on materials, including loose parts — anything that can be moved around, carried, rolled, piled, or combined, such as wood, containers, shapes, and so on — fosters creativity and encourages children to use their imagination.
Books for 6 Year Old Kids
Chapman recommends parents choose storybooks and rhyming books, as well as include information books (e.g., about animals, space, plants). "My own research found that boys and girls both enjoyed information books, and these types of books increased children's knowledge of the world and developed their vocabulary – especially children whose first language is not English." She also adds, "Educators have long recommended that children hear stories about their families' cultural backgrounds and in languages they hear/speak at home, if applicable." So parents might want to consider choosing a story that reflects their cultural background.
More kids to shop for? Check out a few of these other kid-loving gift guides.