10 Best Toys & Gifts For 8-Year Old Boys & Girls According Experts
by Caitlin Flynn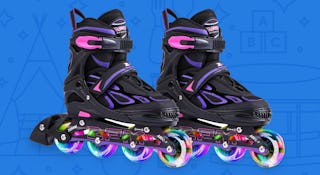 Age eight is a time to cultivate a child's creativity and encourage them to learn new skills. Even if you're not a teacher or a child development expert, you can help start them off on this incredible path. How? Don't worry. We consulted an expert for you to help decide exactly what your 8-year-old needs the most. These kids are smart and want to be independent, so whether they are reading lovers, want to learn to fly drones, or love doing arts & crafts, we know how to keep them busy—independently. Birthday, or anyday gifts ideas for 8 year old boys and girls should inspire creativity and fulfill an interest.
For more gift inspo, check out our toys for 1 year olds, 2 year olds, 3 year olds, 4 year olds, 5 year olds, 6 year olds, 7 year olds, 9 year olds, 10 year olds, 11 year olds and 12 year olds.
Dr. Lauren Gardner, a psychologist at the Center for Behavioral Health at Johns Hopkins All Children's Hospital in St. Petersburg, Florida, recommends encouraging toys that have creative aspects to them and toys that allow children to feel like they've mastered a new skill.
"It's important to consider both the child's unique areas of interest and expose them to new things," Dr. Gardner says. "Eight-year-olds are at a wonderful age where they can help guide you in selecting gifts for them by talking to them about what they like to do for fun, and if there are things they would really like to be doing that they aren't now."
With all these recommendations in mind, check out the best toys for the 8-year-old boy or girl in your life.
STEM Toys for 8 Year Olds
"Age eight is a time of tremendous cognitive change for children as they start to see themselves as individuals more capable of independent problem solving," Dr. Gardner explains. They put more time and energy into completing tasks the "correct" way, but still prefer structured activities and continue to need consistent direction from their caregivers. STEM toys are geared toward curiosity, learning and education which allow children to engage in learning while having fun. Other options for toys that encourage learning while having fun include construction sets, large scale realistic trucks and cars, cooking and sewing equipment, puzzles, microscopes, telescopes and binoculars.
And remember, STEM toys are for boys and girls — let's keep girls engaged in the sciences, shall we?
Board Games for 8 Year Olds
"When considering the emotional and social development of the average eight-year-old, they are at a stage of development where they really enjoy being around their friends," Dr. Gardner says. "They have increased abilities to interact with friends and engage in competition." She recommends gifts that encourage social play with peers such as age-appropriate board games, checkers, chess, and card games. Let the healthy competition begin!
Books for 8 Year Olds
Cultivate a lifelong bookworm by choosing books that appeal to their specific interests. "This is also an age where many children become more interested in books and reading, so book series that are appropriate for their reading level will be excellent gifts," Dr. Gardner says.
Sports Equipment for 8 Year Olds
You don't need to have the next Michael Phelps or Simone Biles on your hands (although hey, you might!) to encourage your kid to try out some sports. "Kids in this age range are increasing their coordination and strength," Dr. Gardner says. "They are also at a stage of development where they become increasingly skilled in sports and active play." She recommends giving the gift of equipment that they need to participate in their favorite sport such as a bike, skateboard, scooter, sports gear, jump rope, rollerblades or ice skates.
"Be sure to always include the right safety gear for these activities as well such as helmets, knee and elbow pads, life jackets, etc.," Dr. Gardner adds. After all, a trip to the ER would put a serious damper on the excitement of learning the activity.
Hobby-Related Gifts for 8 Year Olds
Cultivate and encourage your kid's hobbies — and give them the opportunity to try out new things as they figure out their passions.
"Eight-year-olds enjoy using new skills – both fine and gross motor. For example, a child who is interested in music, dance or drawing could be given the gift of lessons," Dr. Gardner says. "If the child you are shopping for has a particular hobby that they enjoy, gifts related to their area of interest are an excellent idea. Great examples include art supplies, craft materials and sand and water play toys."
Make Believe for 8 Year Olds
Eight-year-olds are definitely not too old for make believe. (Honestly, neither are adults, so this category is a win for everyone involved!)
"Many eight-year-olds enjoy dramatic play and putting on a show for others," Dr. Gardner says. "Toys that encourage pretend play will be a huge hit including dolls with accessories, action figures, puppets, dress-clothes, magic kits, and props for dramatic play."
Now that your 8-year-old is all set, check out more toys for each age!
(Please note that Dr. Gardner and Johns Hopkins All Children's Hospital have not endorsed any of the specific products listed in this guide; they are entirely the selections of the Scary Mommy team and have not been reviewed or approved by Dr. Gardner nor Johns Hopkins All Children's Hospital.)
This article was originally published on